Audi Denkwerkstatt & IOTA: Shaping the future of mobility
Berlin, December 14th, during the hot Berlin summer this year, a team from the Audi Denkwerkstatt started a four month innovation sprint to explore the opportunities of using IOTA technology to solve real world problems in the area of mobility, IoT and automotive.
(https://blog.iota.org/audi-think-tank-iota-foundation-explore-tangle-based-mobility-use-cases-29d43e1cf51)  
Five months later it was time to present the final project results to a selected crowd in Berlin and Ingolstadt and to passing in review of what the team has experienced during the last months. The presentation was a success and it was yet another example of the importance to explore new technologies like IOTA with a customer centric approach.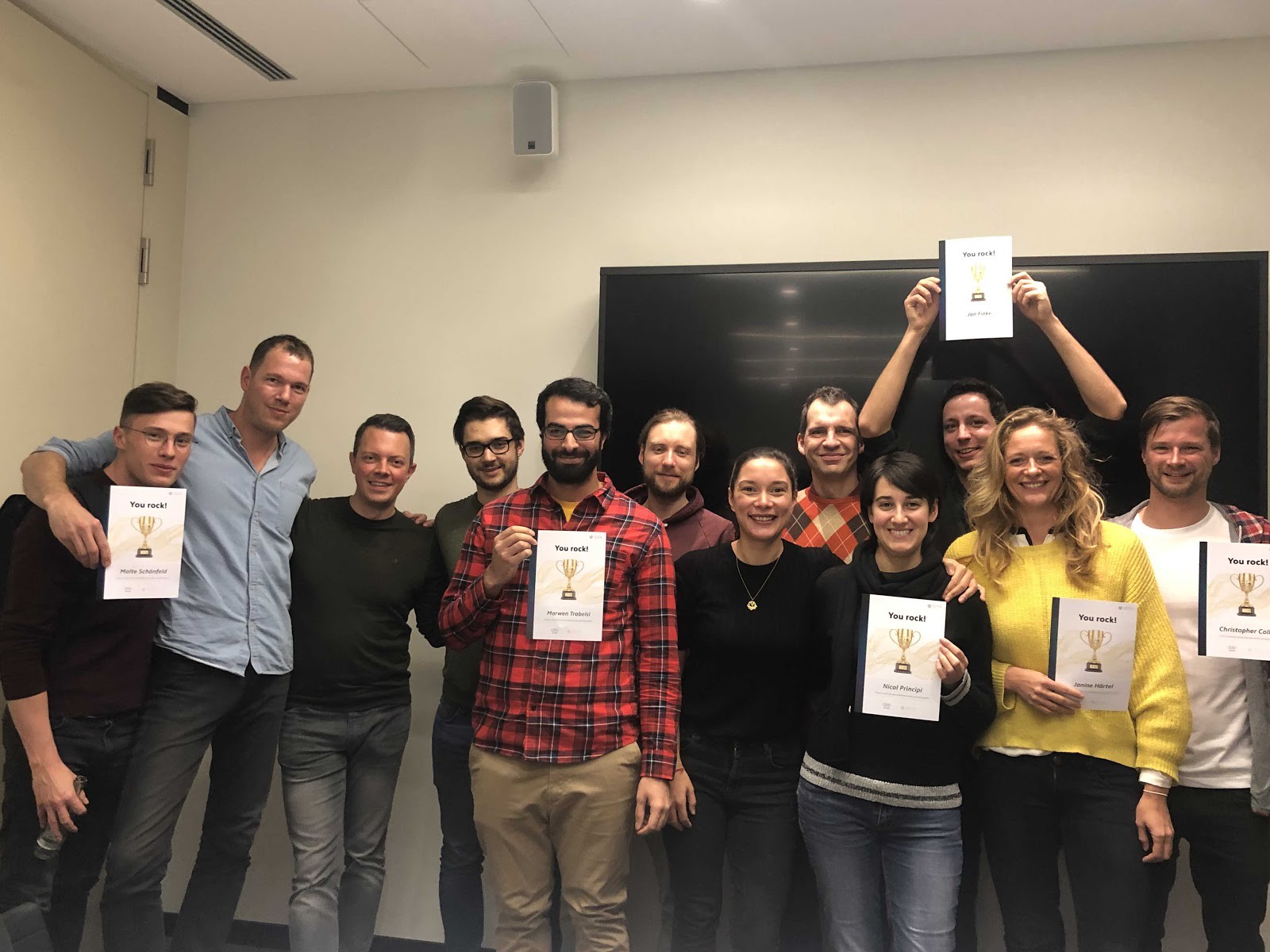 During the first weeks of the project, the Audi Denkwerkstatt team was focused on doing research and interviewing domain experts to define and describe the problem and solution space. After the exploration phase, the team and additional experts worked in stealth mode to focus on finalizing the first prototype, collecting user feedback and getting closer to product market fit. During that time an IOTA Foundation team acted as consultants on a regular basis on topics like technology, use cases and business models. Both sides learned from each other's expertise and contributed to the final results of the project.
Malte Schönefeld (Audi):"We really had a great time working with the folks from the IOTA Foundation. Exploring new topics is always exciting and it requires excellent team work and dedication to really get something done within six months."
Janine Härtel (IOTA):"Audi Denkwerkstatt has a nice track record of projects and IOTA is proud to have been able to experience the work style and team spirit"& Jan Pauseback (IOTA)"It is another proof that innovation requires collaboration and a hands-on mentality."
The end result is focused on enabling trust in e-mobility — it is not yet clear, where the path finally goes — so stay tuned for further information!
About Audi Denkwerkstatt
https://blog.audi.de/audi-think-tank-innovations/?lang=en
We can't imagine life without mobility, yet nowadays 'mobility' goes way beyond the car, encompassing infrastructure solutions and new concepts of locomotion, as well as pedestrians. But what will the premium mobility of the future be? Who will define it, who will influence it and who will shape it?
The Audi Denkwerkstatt would like to answer this question with "WE WILL". 'WE' being Audi employees from all business areas and levels of the company who are working on the answer to this question in the Berlin co-working space, 'The Factory´ "Factory am Görlitzer Park".
But 'WE' also means start-ups, technology partners and the creative talent who are helping us to develop and realize products and business models. 'WE' want to use Audi's strength as a centre of technology expertise and combine it with start-ups' skills in agile development, creative approaches and absolute customer focus.
About IOTA Foundation
IOTA is a not-for-profit foundation incorporated and registered in Germany. The IOTA Foundation's mission is to support the development and standardization of new distributed ledger technologies (DLT), including the IOTA Tangle. The IOTA Tangle is an innovative type of DLT specifically designed for the Internet of Things (IoT) environment. It is an open-source protocol facilitating novel Machine-to-Machine (M2M) interactions, including secure data transfer, fee-less real-time micropayments, and the collection and dissemination of sensor-based and other data. www.iota.org