DNB teams up with IOTA to explore the Economy of Things and MyData / 'GDPR as an opportunity'
DNB ASA and the IOTA Foundation signed a cooperation agreement to drive open innovation and co-creation in the space of citizen centric innovation, machine economy and decentralised data marketplaces
Oslo, Norway, May 2018 — DNB and the IOTA Foundation (IOTA) signed a Memorandum of Understanding coming into effect immediately. The two parties will collaborate on exploring the new digital innovation landscape made possible by the IOTA Tangle technology.
DNB ASA is Norway's largest financial services group and one of the largest in the Nordic region in terms of market capitalisation. DNB, which has been exploring blockchain and distributed ledger technologies (DLT) via the R3 consortium, is now collaborating with IOTA Foundation to explore the IOTA Tangle, an open-source permissionless distributed ledger technology beyond Blockchain.
The IOTA Tangle is the first open-source distributed ledger that is specifically being built to power the future of the Internet of Things (IoT) with feeless microtransactions and data integrity for connected devices and machines. Since November 2017, IOTA has been running the Data Marketplace initiative[1]with the participation of many global industrial and IT companies such as Bosch and Fujitsu.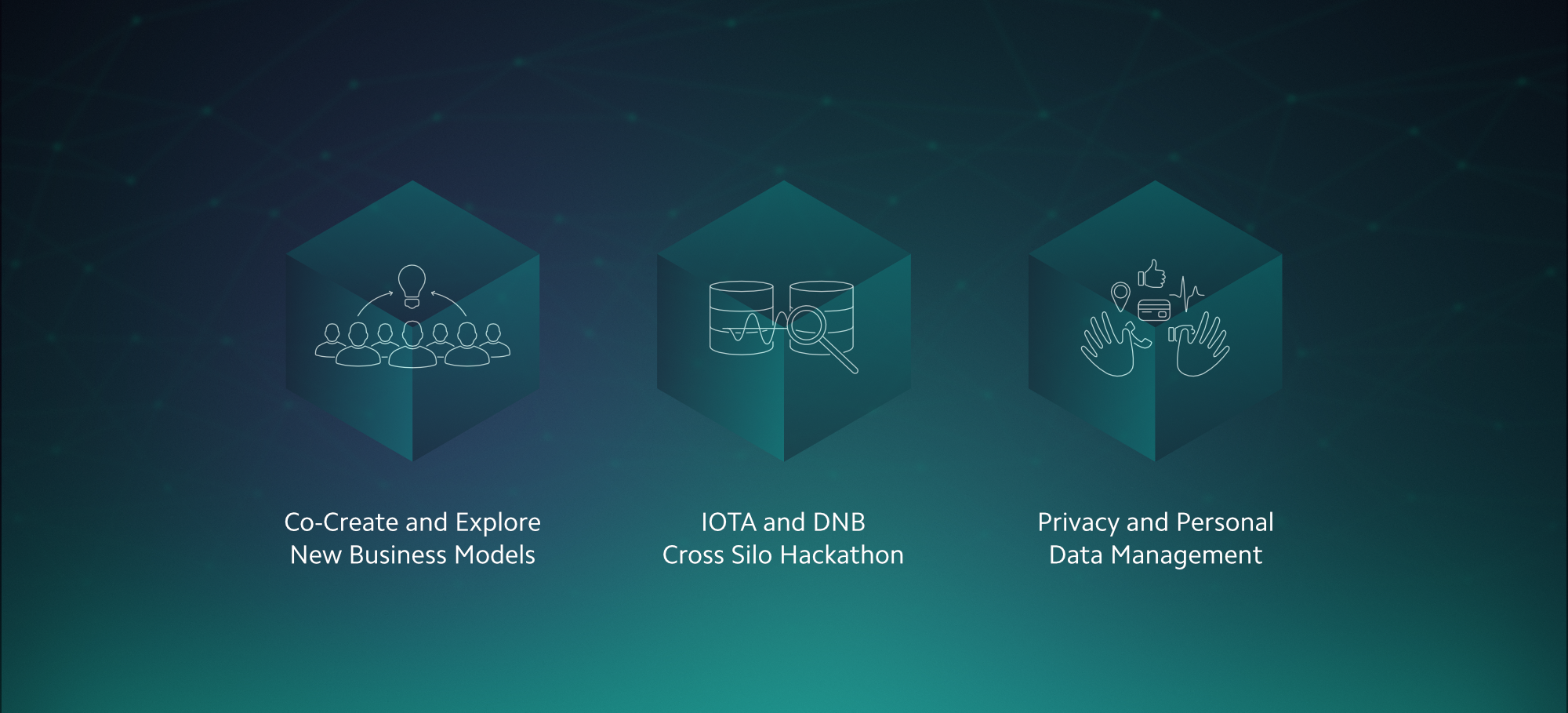 DNB joins today the Data marketplace initiative and thus participates to its proof-of-concept and open innovation activities. The Bank and IOTA will proactively engage with their respective ecosystems of stakeholders to co-create and explore new business models across industries. IOTA's growing agenda around privacy and personal data management — 'GDPR as an opportunity', is also a prioritized area for the cooperation. The two organisations will seek to catalyze the exploration of IOTA in and from Norway via cross silo hackathon and thus contribute the positioning of DNB towards this new landscape of smart innovation.
Lasse Meholm, Head of DLT at DNB — "As Internet of Things (IoT) and Machine to Machine (M2M) communication and payment for microservices seem to escalate in the future, we think engaging in a Distributed Ledger based technology like IOTA gives us valuable experience and know-how on future revenue streams and business models. We are looking forward to dive into the IOTA space"
David Sønstebø, Founder of IOTA Foundation, Norway — "Norway has always been a vanguard in adopting cutting edge technological paradigm shifts that improve the efficiency of our society, I am very excited at the IOTA Foundation which is spearheading Distributed Ledger Technology and IoT payments working with Norway's largest financial institution on carrying this tradition onwards."
Wilfried Pimenta de Miranda, Head of Business Development at the IOTA Foundation, Norway — "In the wake of Norway's recent joining 21 other EU countries to collaborate on Blockchain innovation [2], IOTA is excited to position Norway in the forefront and team up with such a strong and trusted financial organisation. Looking forward to explore together the next big wave of global value growth — the IoT / M2M economy."
About DNB
DNB is Norway's largest financial services group and one of the largest in the Nordic region in terms of market capitalisation. The Group offers a full range of financial services, including loans, savings, advisory services, insurance and pension products for retail and corporate customers. DNB's bank branches in Norway include in-store postal and banking outlets, Post office counters, Internet banking, mobile services. DNB is one of the world's leading shipping banks and has a strong position in the energy sector, and the fisheries and seafood industry. www.dnb.no  
About the IOTA Foundation
IOTA is a not-for-profit foundation incorporated and registered in Germany. The IOTA Foundation's mission is to support the development and standardization of new distributed ledger technologies (DLT), including the IOTA Tangle. The IOTA Tangle is an innovative type of DLT specifically designed for the Internet of Things (IoT) environment. It is an open-source protocol facilitating novel Machine-to-Machine (M2M) interactions, including secure data transfer, fee-less real-time micropayments, and the collection and dissemination of sensor-based and other types of 'oracle' and other data. www.iota.org  
[2]https://ec.europa.eu/digital-single-market/en/news/european-countries-join-blockchain-partnership