Fetch.ai and the IOTA Foundation to Offer Autonomous Economic Agents
Fetch.ai and the IOTA Foundation are joining forces in order to offer autonomous economic agents (AEAs) on the Tangle.
Since the launch of the Chrysalis upgrade and the release of the IOTA 2.0 DevNet, the Tangle is available as a reliable and production-ready base layer for a whole range of industrial partners.
One of these partners is Fetch.ai, a Cambridge-based artificial intelligence (AI) lab that uses autonomous economic agents to process various information via AI-based applications for smart and innovative data solutions.
What are AEAs
Autonomous economic agents are a set of rules that can act without constant interference from their owner. The goal of an AEA is to generate economic value for its owner or initiator.

One of the countless possible environments could be a traditional financial market in which the owner instructs its AEA to act on their behalf, for example to trade commodities based on a certain price threshold. In simplified terms: sell high and buy low. Further applications are trading data, mobility-, ecological- or supply chain solutions.
While AEAs are no general artificial intelligence, APIs, or smart contracts, they instead follow narrow rules in an autonomous way without the need of constant instructions. AEAs are powered by the FET token and can be built and deployed via open source tools provided by Fetch.ai, allowing anyone to create an autonomous agent on their blockchain and, in the future, on the Tangle.
How does it work?
By connecting autonomous agents from the Fetch.ai ecosystem to IOTA Streams instances, smaller resolution data can be shared and retrieved from the Tangle in a feeless, automated way, allowing economic agents and smart contracts to act based on near real-time secure data.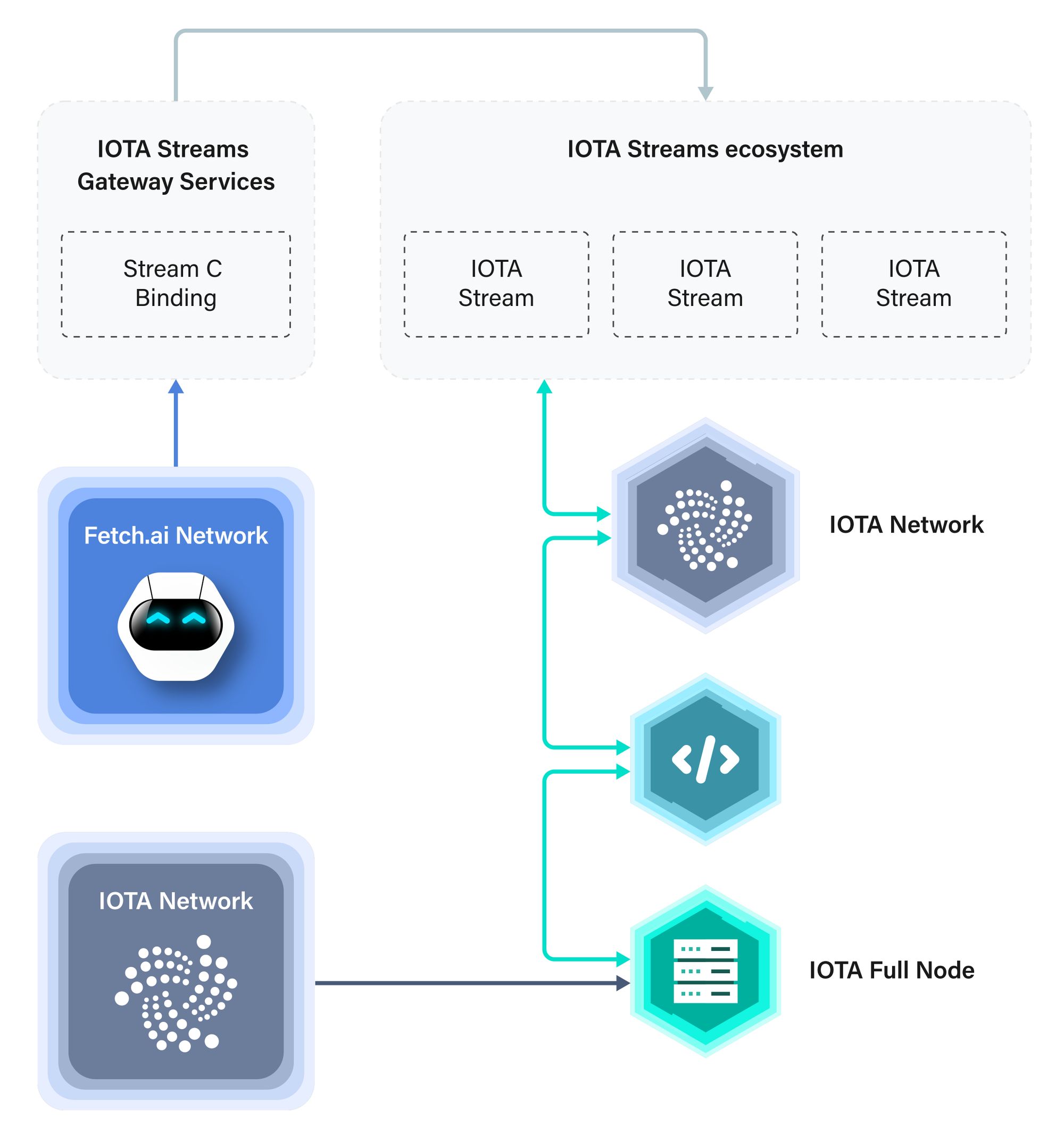 Publishers and readers will be able to easily verify the source of data being interacted with, as well as manage access policies for that data via the autonomous agents interfacing with one another. This can be used to generate complex engines of interconnected agents operating in conjunction with one another with a foundation of verifiable distributed data, anchored securely to the Tangle.
This framework is a supportive toolset that benefits:
Data scientists
Economists
Researchers (Artificial Intelligence, Machine Learning, Multi-Agent Systems)
Engineers
Machine learning experts
Independent developers
Students and academics
Crypto connoisseurs and enthusiasts
Web developers
Traders
Data producers gain fine-grained control over who can access the data that they produce; whether from a mobile device, environment IoT sensor, connected vehicle or Industrial IoT solution. Additionally, in the light of data and privacy focused regulations like GDPR, this partnership aims to establish a privacy preserving infrastructure.
Proof of concept
The Fetch.ai dev-team is working on a proof of concept using the IOTA Streams C binding and AEA framework to build a channel based application for secure data sharing.
Humayun Sheikh, CEO of Fetch.ai:
The partnership with IOTA is a crucial step in expanding our agent framework and providing them the bandwidth for data generation. In most DLT's there is an associated cost with sending and verifying data that is often passed down to the user end, and traditional blockchains have inherent limitations to the amount of data that can be distributed and verified in a given time period. IOTA is more scalable and does not require the fees as a barrier to entry, allowing for smaller message payloads to be sent more frequently rather than bulk loading the data. This means that agents can deploy, publish and read data of any arbitrary size at any time without incurring additional costs.
Holger Koether, Director of Partner Management at the IOTA Foundation:
We are enabling data producers to take control over who can access the data they produce whether from a mobile device, environment IoT sensor, connected vehicle, Industrial IoT solution and a host of IOT focused use cases. With this partnership, we hope both the Fetch and IOTA communities expand the functionally of what devices can do autonomously on distributed networks.
---
Subscribe to the Newsletter here and receive it directly to your email
Follow us on our official channels and get the latest news!