Introducing the IOTA-Powered Telco Asset Marketplace (Part 1)
Back in May, the IOTA team attended the TMForum Digital Transformation World event in Nice. The event was organized by the TMForum, a not-for-profit industry association, whose mission is to drive the digital transformation for the future growth of its partners, operating in the telecommunication and related sectors. For them, the TMForum paves the way for the exploration of new technologies and business models.  
One way TMForum does this is through the Catalysts program. The Catalysts are innovation activities sponsored by the TMForum. Each Catalyst has a champion (usually one of its member organizations) whose role is to identify a business problem/challenges to be solved and convene a number of technology providers to work on rapid innovation sprints. Innovation sprints span a 12-weeks time frame and conclude with the presentation of a prototype solution.  
The IOTA team participated in the Catalyst focused specifically on exploring the role that blockchain and distributed ledgers will play in creating new markets for Communication Service Providers (CSPs).
In Nice, IOTA demonstrated the DLT-based Telco Asset Marketplace. A new form of decentralized digital marketplace. The presented work was shortlisted for an award.  
So what is the Asset Marketplace presented by IOTA? Before explaining the solution, let's start with understanding the problem.
There is an axiom that CSPs understand well:An underused asset does not generate enough Return of Investment (ROI) to cover the Capital Expenditures (CAPEX) required to build it. However, an underused asset still requires Operating Expenses (OPEX) to maintain it. So as a result, an asset of this kind generates costs that are not covered by its returns — an unintended problem that investors and asset owners are constantly dealing with.
Although this problem generally applies to various industries, let's focus on the assets we are talking about in the realm of CSPs. In this case, a few examples can include cell towers, wifi infrastructures, frequency bands, fiber networks, and aerial drones used to bring connectivity in remote/rural areas.  
When do these assets become underused? It can happen anytime. Most of the telecommunication networks have overestimated capacity in many urban areas. However, they can also be underestimated in less populated regions or easily fall short of required capacity when special events occur in particular locations and at specific times. Think of large sports events, music concerts and festivals.
You have probably already experienced the frustration of trying to use your mobile phone to upload a picture during a concert or a football match.
However, this under and overcapacity is mostly the result of the network infrastructure being siloed within each CSP domain and used only for its customers without any cross-CSPs customers sharing.
So you can see how an opportunity to offer these assets emerges. If there was a marketplace for them to be displayed and offered to potential buyers.
But is there a demand for these assets? The answer is Yes.
In particular with the advent of 5G networks and service-based architectures, the concept of Infrastructure as a Service (IaaS) will represent a driver for innovation.  
In a similar way, Mobile Virtual Network Operators (MVNOs) already need to provision in advance resources for their customers before their actual use. This involves making requests to Mobile Network Operators (MNOs), that own the infrastructure. It is clear how increased flexibility in this process would definitely benefit the market.  
Together with new business models, two new types of stakeholders appear. The Asset Providers (Sellers), those CSPs with unused assets, and the Service Providers (Buyers).
But who are these new Service Providers? It can be anybody developing a mobile service. In particular Small and Medium Enterprises that leverage innovative technologies to create services for their customers (B2C) or customers of their customers (B2B2C).
But with Service Providers being mostly SMEs, neither them nor their customers can afford to sustain the capital investment required to deploy the infrastructure hosting their mobile services. This hinders the opportunity to deploy many innovative new solutions.
If demand and offer meet, a new market will flourish
If demand and offer meet, a new market will flourish
With that, the revenues generated by consumers using these services can help to cover the operational costs and generate a new return of investment for underused assets provided by asset owners. Underused assets would no longer be something that worries CSPs.
Think of the following scenario: a concert organizer wants to provide an immersive experience for its participants, consisting of virtual (VR) and augmented reality (AR) effects accessible through participants' mobile phones and smart goggles.  
The concert organizer requests a pioneering AR/VR SME to develop this service as a mobile app. However, the deployment of this service requires users to access a large mobile Internet bandwidth which is usually not possible in very crowded areas when only a CSP provides it for its customers.
On the other hand, the service provider and the event organizer cannot afford to ad hoc deploy the required infrastructure. But the situation might change if different CSPs can offer unused frequencies, cell towers, aerial drones, and WiFi infrastructures for a limited time irrespective of their customers being in the area or not.
A marketplace where this demand and offer can be matched is still missing.
So how do you develop such a marketplace? In the best scenario, digitization can lead each CSP to build its own marketplace where service providers can search and request needed assets.
However, in this case, the friction generated by the fragmentation of marketplaces will easily overcome their benefits. With asset offers posted on different marketplaces, service providers will need to process results from different platforms. This increases the complexity of the assets discovery.
At the same time, asset payments are done using different systems. With service providers needing to set up and manage different accounts with increased overhead and costs. This is particularly relevant for small service providers. As a result of this fragmentation, the auditors' job in certifying the compliance of different marketplaces also becomes costly and complex.
Instead of fragmentation, the answer is a marketplace shared among all CSPs but not owned by a single one. This can bring various benefits. Developing a transparent open marketplace with permissionless access, where both asset and service providers post asset offers and requests, and where automated matching and payments settlement with tamper-proof audit trails are provided, will deliver many gains. These include:  
A real-time offer and request discovery process and optimal asset matching
The maximization of ROI for Asset Providers and best asset selection for Service Providers
A unique payment system to speed up asset access
An easy-to-review audit trail and fast usage agreements clearing for auditors
However, there are also barriers to developing such a multi-sided marketplace. First, the lack of trust and difficult accountability of who offers and who accesses what, under which conditions. Second, the distribution of revenues and tracking of liabilities in case of misuse.
To overcome these barriers we developed the IOTA-powered Telco Asset Marketplace.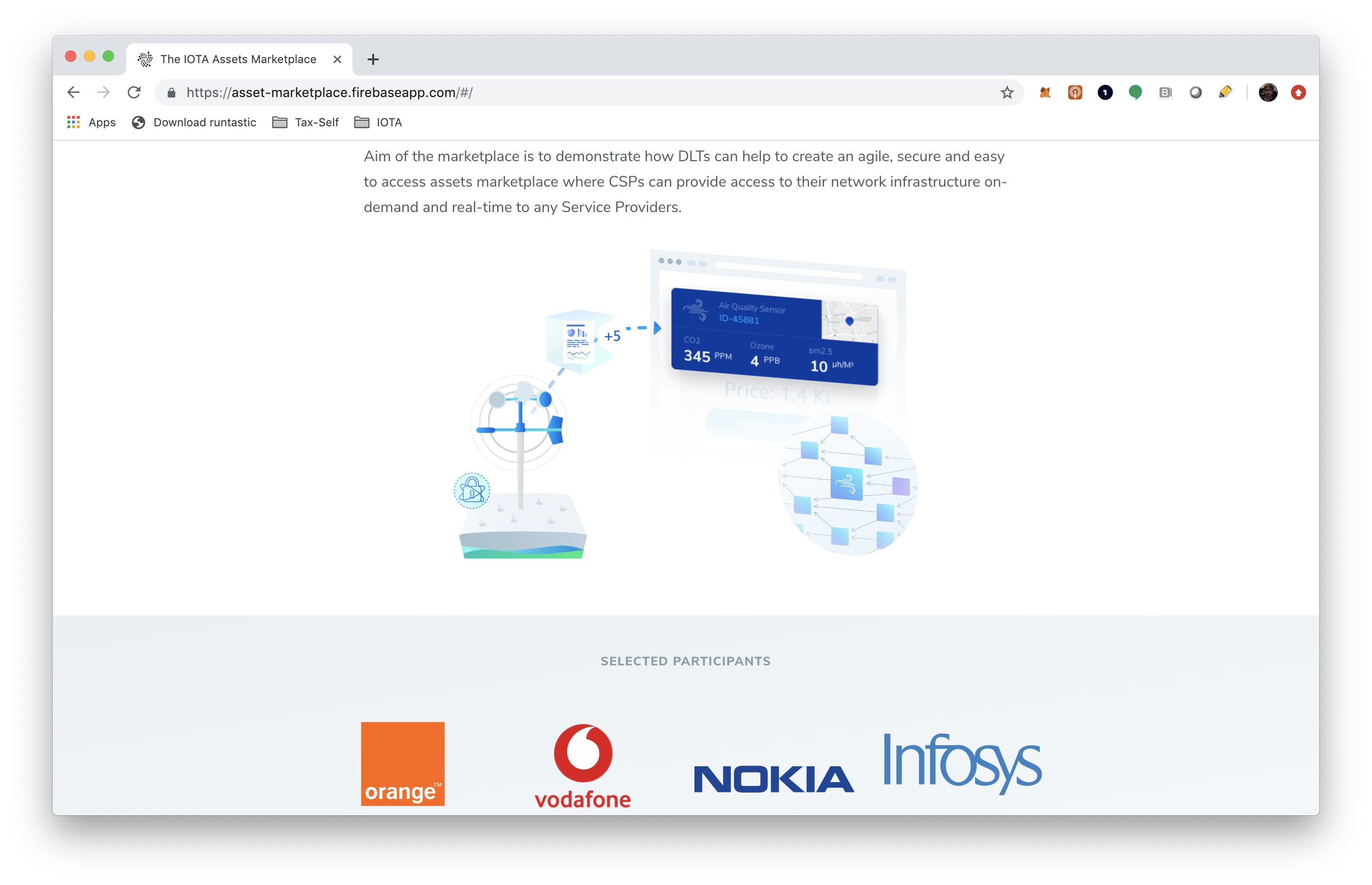 Curious to know how we built this marketplace? Why don't you take a look at the second and more technical part of this blog post?
---
Follow us on our official channels for the latest updates:
Discord | Twitter | LinkedIn | Instagram | YouTube