IOTA and ClimateCHECK Launch New DigitalMRV Solution and Strategic Partnership
At IOTA, we believe in the positive impact of IoT technologies on our economic system and day-to-day lives alike. However, it is often hard to pinpoint how these technologies provide value today by helping to solve the challenges we have right here, right now. Following nearly two years of collaboration, the IOTA Foundation and ClimateCHECK, a leading international provider of climate and cleantech services and solutions, are excited to announce a strategic partnership to expand our collaboration to create innovative technologies for climate change, clean technologies, and sustainability that foster an open ecosystem around sustainable DLT protocols. We are also excited to share the first results of our joint ambition to create the DigitalMRV solution that streamlines and digitizes a process known as Measurement, Reporting, and Verification: in short, MRV.
The IOTA Foundation and ClimateCHECK have been collaborating through various initiatives such as the Climate Chain Coalition or INATBA based on their joint vision of democratizing access to climate technologies and building multi-stakeholder ecosystems pursuant to open and transparent processes for environmental accounting. As an important measure to mobilize the global community in the fight against climate change, carbon credits and certification is one of the most important market instruments to incentivize investments in clean, sustainable activities. Today, the need for high assurance in this system involves costly, time-consuming certification processes. Especially in developing economies, this certification process often restricts the positive incentives of being able to qualify carbon reductions as actual carbon credits due to the prohibitive cost.
Tom Baumann, CEO of ClimateCHECK commented on the initiative: "We have been working on climate change issues since 1998 in various roles and with a focus since 2009 on integrating digital solutions into measurement, reporting, and verification (MRV) systems. Digital innovations are rapidly advancing and becoming more important for efficient and effective scaling of climate actions and nationally determined contributions under the Paris Agreement, as well as climate-smart technologies, carbon markets, carbon border adjustments, climate disclosure, and finance — to name a few examples. We look forward to expanding our strategic partnership with IOTA and its robust digital ecosystems to set the standard with DigitalMRVTM for nextgen assurance to enable innovative solutions for climate change, cleantech, and sustainability."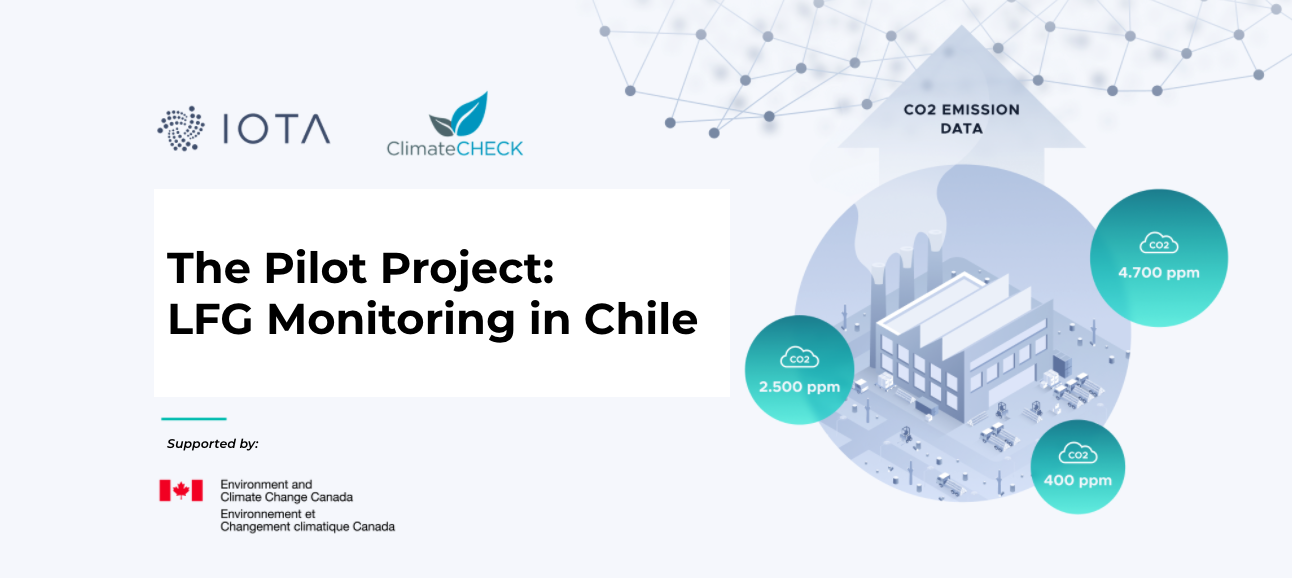 We started our collaboration with a 14-month joint pilot project to deploy DigitalMRV at a landfill gas capture and utilization site in Chile which is funded by the Canadian government through Environment and Climate Change Canada (ECCC) as part of the Reciclos Organicos project. IOTA is working jointly with MRV experts at ClimateCHECK, as well as Arcadis, ENC Energy, ImplementaSur, and the Chilean government, to showcase how digitizing MRV activities by integrating the IOTA protocol on gateway devices can dramatically decrease the cost of MRV and improve downstream use of carbon credit certification by introducing a single version of truth in sensor readings in real-time. We believe that this is a huge step in proving the feasibility of Distributed Ledgers, and more importantly, permissionless protocols for climate action and sustainable transformation of our economic systems. Through this process, we actualize the core requirements to establish a trustworthy digital twin of the landfill gas (LFG) site through immutable near real-time data streams from several sensors on site.
Franck Portalupi, Manager of Technology Partnerships at Environment and Climate Change Canada commented on the pilot project: "Canada is proud to support Chile's pilot project which is demonstrating state-of-the-art methods to track emission reductions in real-time. This is an excellent example of how Canada's climate finance is helping countries meet their climate commitments under the Paris Agreement.''
IOTA — A Sustainable Ledger
Ultimately, environmental challenges affect all of us. We at the IOTA Foundation fundamentally believe that this brings not only challenges but also opportunities. With our technology integrated into the core of Digital MRV, we aim to make these opportunities available to as many people as possible. In contrast to permissioned ecosystems, the Digital MRV solution leverages IOTA´s permissionless architecture while maintaining the privacy of sensitive industrial processes through IOTA Streams. Traditional centralized data stream solutions have a myriad of single points of failure inherent in their process and are open for numerous points of data manipulation along the data trail and pipeline. However, by leveraging tamper-proof capabilities the data streams can be secured from the point of data creation and relayed over a trusted, permissionless, and feeless network. This allows for a granular level of near real-time accountability and transparency in what the facility is doing which directly benefits the creation and verification of carbon credits. Its design also ensures that there is no introduction of new vulnerabilities in the existing Supervisory Control and Data Acquisition (SCADA) systems.
The use of tamper-proof data is enabled through the project's integration of IOTA Streams and the IOTA Tangle. With IOTA Streams, the data is formatted into easily digestible data structures where the data is generated in the plant. It is then secured through cryptographic integrations built into the Streams functionality and pushed over the IOTA Tangle as a data transfer mechanism. Using the IOTA Tangle as the transfer mechanism allows for near real-time access to the data from the plant, a tamper-proof historical record of the data that's generated, a scalable core that can be expanded for any other type of climate data, and a level of interoperable infrastructure that requires no core fees to use or push this data over.
For future work, the actualization of trusted carbon credits can be enabled through the use of tokenized digital asset frameworks currently being built into the core functionality of the IOTA protocol. This will create a holistic approach to the creation of verifiable carbon credits and incentivizing sustainable economic growth by directly correlating those carbon credits to the impact that those earning the carbon credits are making on the environment. At its current stage, the pilot allows a deep level of testing of inherent security for new digital twin processes to build off of, allowing the creation of a single source of truth for environmental data from the edge in. It also removes concerns on data privacy due to no central hosting authority, which has the dual benefit of removing the traditional issue of vendor lock-in. The core IOTA Protocol is open-source, permissionless, feeless, and scalable. So this solution can continue to grow throughout the landfill gas industry to establish new standards and levels of collaboration that have historically been difficult to accomplish due to ownership and accountability disputes.
Dominik Schiener, Co-Founder of the IOTA Foundation: "Since we have started the IOTA Foundation, we have been focused on creating not only a free protocol but also to use our technology to help address the big human challenges of the 21st century. We are very proud that together with our partner ClimateCHECK and support of the Canadian Department of Environment and Climate Change (ECCC) we were able to demonstrate the feasibility of IOTA in contributing to increased trust and reduced cost in the climate change sector, freeing up resources to directly contribute to climate action. Not only does the solution provide insight into next-generation monitoring of greenhouse gas emissions, but it also highlights the unique selling point of the IOTA protocol and its capabilities for the Internet of Things. Our collaboration with ClimateCHECK empowered us to combine years of experience around climate standards and assurance with our front-running position in combining IoT and DLT technology to showcase the potential of IOTA as a sustainable protocol.
We hope to stimulate additional innovation in the spectrum of DigitalMRV and expand our work to more industrial use cases in other environmental sectors, as well as include smaller, community-driven projects from our ecosystem in future integrations. Furthermore, the value of digitizing MRV is most powerful, when combining feeless value transfer with tamper-proof data transfer capabilities in one single protocol allowing a unification of tokenized carbon credit standards globally. Lastly, IOTA´s low resource requirements allow us to take trust in environmental data as close as possible to the edge. While ensuring that this can grow using a distributed ledger technology that also has a low carbon footprint due to its collaborative consensus model and energy-efficient design.
What's next?
This pilot project is just another step in IOTA´s quest for a sustainable Internet of Things and building scalable sustainability solutions with our partners. While we plan to roll the project out to more plants and different industries in the next 6 months, we also plan to increase the scope and capabilities of the project in the future together with ClimateCHECK and our wider ecosystem. Stay tuned for more announcements in the coming months or reach out if you want to join our mission to build open-source technologies that solve the challenges of the 21st Century.
---
If you have any questions, you can find our team members on our Discord server.
You are also welcome to follow us on our official channels: