Announcing the IOTA Experience Teams
At the IOTA Foundation, we have always celebrated and supported the many achievements of the IOTA community. By its very nature, the health of any project in the DLT space has as much to do with those consuming the code as it does with those maintaining it. Only through an active and supportive ecosystem innovating alongside the IOTA Foundation will we see IOTA's broad adoption and achieve our vision of a Machine Economy.
To further our collaborative efforts and work towards this objective, the IOTA Foundation, together with the community, is launching IOTA Experience Teams.
IOTA Experience Teams are groups of dedicated community members that work together with IOTA Foundation members throughout different stages of development. IOTA Experience Teams strengthen collaboration with our passionate community and pave the road for IOTA to have the best developer experience in the DLT and IoT space.  
IOTA Experience Team (or X-Team) members are active contributors to the ever-growing IOTA Ecosystem. Many of them already have personal projects built on IOTA or support the broader community with tools, guides, articles and business cases around IOTA.
X-Team members speak as a voice for the community. Working alongside IOTA Foundation members they will become intimately involved in preparing tools, libraries and documentation for IOTA technologies. Every team member works at their own pace and in the context of their own interests. They play an essential role in the transition from alpha to production releases, making sure products are easy to use and meet the needs of the broader development community.
The X-Teams take part in various initiatives proposed by the IOTA Foundation, but are also invited to propose their own initiatives to enhance the IOTA Experience.
In the upcoming period the IOTA Foundation will launch a total of six initiatives:
IOTA Streams
GoShimmer
Bee
Hornet
Chronicle
IOTA Access
Discover more about the IOTA Experience Teams and the IOTA Streams initiative at the kickoff meeting recording.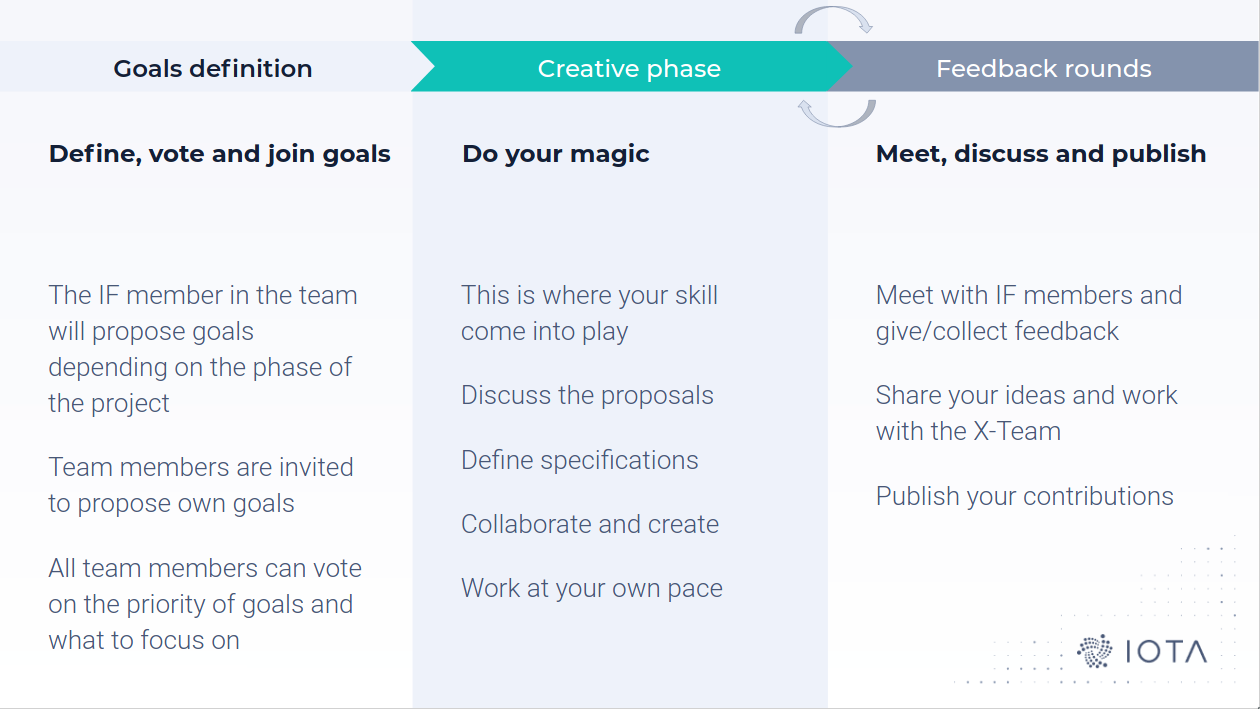 Over 26 IOTA community members have already applied for the X-Teams and we are currently scheduling kickoff meetings with them. The first initiative, IOTA Streams, has already received substantial involvement from IOTA Community members rck, herrkpunkt, AleB, reiloy, huhn, mayjs, RayanAay and GJEEE!  
There are different ways of contributing to the IOTA Experience, such as:
Testing IOTA's technology
Short articles and how-tos about tangible use cases, to stimulate interest in IOTA
Code examples and PoCs to kick start developers outside the IOTA community
Review and give input to ensure developer-friendly APIs
Improved documentation and specifications
Benchmarks and performance tests
To get started, discover the IOTA Experience Team on GitHub, explore the first IOTA Experience Initiative and then apply through this form.  
We welcome everyone to stop by on Discord and to follow us on Twitter to keep track of all the latest news: https://twitter.com/iotatoken