IOTA Foundation Launches Industry Marketplace, the World's First Autonomous and Decentralized Marketplace
The Industry Marketplace, Leveraging IOTA's Distributed Ledger Technology, will enable increased Interconnectivity between Humans, Machines, and Machine Readable Contracts.
Visit the Industry Marketplace here.  
The IOTA Foundation is proud to announce the release of the Industry Marketplace, the world's very first autonomous and decentralized virtual marketplace. After forming a consortium of world-leading academics, standardization bodies, enterprises and thought leaders, we are excited to present our joint development that will greatly accelerate industrial automation and commercial machine interaction.
The next generation of industrial automation, Industry 4.0 (I4.0), is rapidly approaching. In tomorrow's world, devices will contain not only asset information, but proactive decision and optimization algorithms to enable goal-oriented behaviors. I4.0 devices can be viewed as autonomous independent economic agents that cooperate according to market economy principles.
The highly flexible value creation networks that result from I4.0 will require new forms of collaboration between companies — both at a national and global level. The successful implementation of I4.0 will depend on the creation of a common global communication and computing infrastructure that enables economic relationships between humans and machines.
By combining distributed ledger technology with established standards and openly-developed specifications, the Industry Marketplace will spearhead I4.0 and create a platform for the economy of things.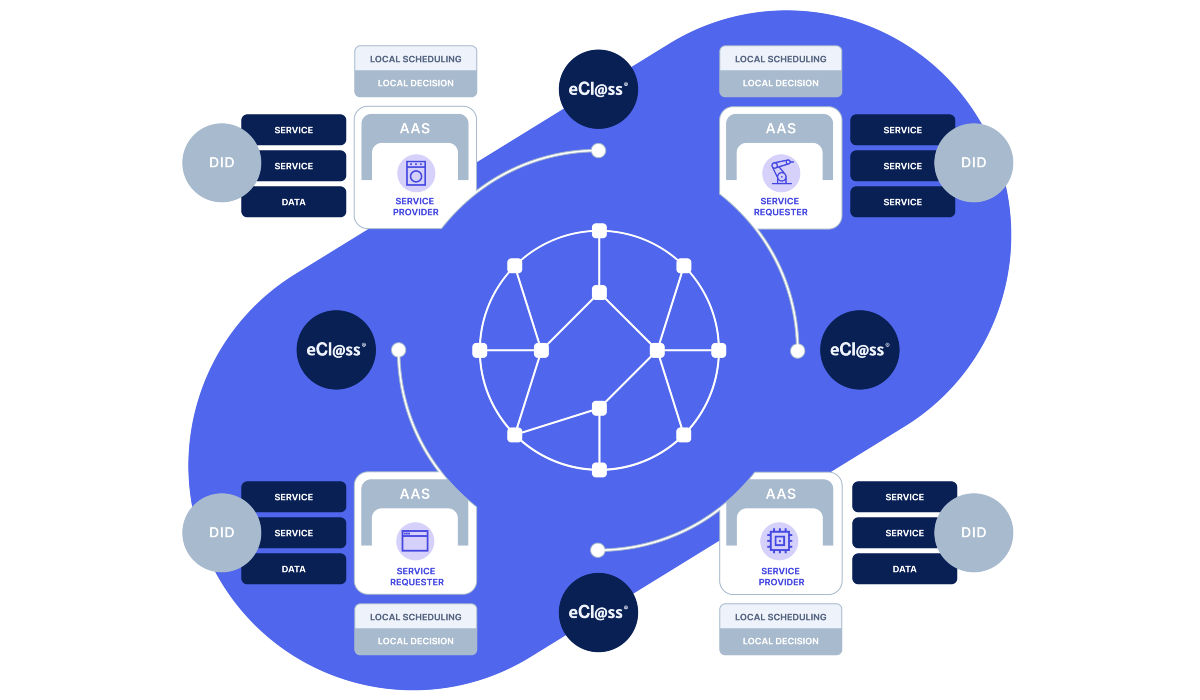 The Industry Marketplace will serve as a vendor and industry-neutral platform, automating the trade of physical and digital goods and services. Building on specifications developed by the Plattform Industrie 4.0(Germany's central network for the advancement of digital transformation in manufacturing), the Industry Marketplace combines:  
Distributed ledger technology
Immutable audit logs and [email protected] standards
Machine-readable contracts and an integrated decentralized identity system
Together, these features facilitate a secure communication and payment platform for the full industry landscape, ensuring the authenticity of all participants, and enabling decentralized exchange.
With the building blocks of the first "Data Marketplace", we now evolve the concept into a fully-fledged product. When the Data Marketplace proof-of-concept was launched in 2017, and later open-sourced, IOTA established a platform for corporations and community members to explore new IoT / M2M solutions and business models. The marketplace formed an ecosystem to foster permissionless innovation and demonstrated the potential of the "Economy of Things".  
The new Industry Marketplace is a substantial leap forward in our vision and we have significant plans for its future. Today's launch is just the first step in this project's timeline. Enterprises are now gaining more experience with distributed ledger technology and learning how best to make use of its potential. Working together with enterprise we will develop an industry standard for decentralized data and service exchange.
Industry Marketplace Key Features  
Vendor and industry-neutral
Standardized communication for contracts, product data, purchasing, bids, orders and services
Implementation of the I4.0 principles for driving forward digitalization and manufacturing
Semantic language, based on open specifications, developed by Plattform Industrie 4.0 and academic institutions
A secure, decentralized and globally accessible protocol
Low system requirements
Open source software
Integrated, decentralized identity
Integrated payments for goods and services, without transaction fees
Payment queues for high-frequency environments, e.g. buying many individual data sets
Immutable audit logs (including for payments), compliant with regulatory requirements

"The industry marketplace is designed to solve the current issues around creating a common standard language for autonomous machine-to-machine communication," said Thorsten Kroke, Head of Digital Processes & Standards, [email protected]"This is an essential aspect of Industry 4.0, where secure data exchange without the loss of key information for decision making are foundational requirements."  
"The IOTA decentralized identity system is capable of solving an industrial need right now: identifying physical devices. Identity is a prerequisite to attach an Asset Administration Shell to a physical device," said Jörg Nagel, Managing Director, Neoception, "The DID used by the Industry Marketplace may seem futuristic to some, but it solves a real problem for the industry, by providing globally unique IDs."  
"The Industry Marketplace paves the way for secure automated trade in the manufacturing sector," said Holger Köther, Director of Partnerships of the IOTA Foundation. "The use of the IOTA Tangle, an open-source distributed ledger technology that is feeless and scalable, ensures stability and robustness for the Marketplace and its participants. We are now looking forward to expanding the circle of participants, demonstrating the Marketplace under near-production conditions and continuing its development with our industry partners."  
The Industry Marketplace has been developed as an open-source initiative and is free to join. We encourage open innovation with other industry partners to explore new business models and the many possibilities of industrial automation.  
You can run a simple demo at your office to explore its potential.  
If you or your organization are interested in exploring the Industry Marketplace further, we recommend you follow these best practices:
Secure a mandate from management, aimed at exploring emerging digital technologies and non-incremental innovation
Experiment in small but quick steps, start with a very simple PoC
Secure the resources necessary to ramp up your PoC towards a testbed pilot
Apply the principles of Open innovation. Be comfortable sharing your "problem worth solving" to find complementary partners sharing similar ambitions
The IOTA Foundation will support you in integrating your infrastructure onto the Industry Marketplace and help you with your first Proof of Concept.
If you want to know more or wish to become part of this open innovation initiative, please contact us at [email protected] or join our discord (https://discord.iota.org).
We intend for the industry marketplace to be used widely in production across the industry landscape. Achieving this goal is not a simple process, and there are many challenges ahead. In order to best place ourselves for industry-wide adoption, we will be driving two central initiatives:
A co-creation process focused on developing minimal viable ecosystems around simple, tangible use cases. We will begin by growing the network of partners involved in the Industry Marketplace initiative. Building trust between partners and alignment around a common purpose is key to the project's success. By connecting devices, assets, products, and services from a range of industries, we will further demonstrate the Industry Marketplace's capabilities in automation within real-world scenarios and testbeds.  
2. Establishment of long-term development with academic,   M  enterprise, public sector, and community partners.  We are forming a working group to establish standards, develop APIs and push the Industry Marketplace toward adoption. This is part of a wider drive to establish a system for long-term development. Working together with both the community and our partners, we will be able to integrate many additional features along the way. These include, but are not limited to: tutorials, ratings, reviews, analytics (verified by DID), additional search and visualization options, statistical data evaluation, industry-specific tutorials and extensions, connectivity to other (enterprise) software, a distributed governance system, expansion of the current DID implementation towards W3C standards, and much more.  
Project partners  
The creation of the Industry Marketplace would not have been possible without the following collaborators. We commend their motivation to change the status quo for the better, and their determination to establish the economy of things through IOTA's open-source technology.

Semantic catalog data & standardized machine properties ([email protected])

Semantic contract language development for Industry 4.0 components, marketplace concept, marketplace development and integration into OvGU demonstrator (OvGU)

Industrie Platform 4.0, decentralized ID concept and marketplace concept (HSU)

Asset Administration shell integration, marketplace concept and integration into the [email protected] demonstrator (Neoception)

Marketplace feedback and WeWash PoC integration, to publish WeWash capacity on the marketplace (WeWash)

Payment and Data Assurance Provider, Industry Marketplace Concept and Integration, decentralized ID integration (IOTA Foundation)
Project team (in alphabetical order)  
Alaettin Dogan, Alexander Belyaev, Univ.-Prof. Dr.-Ing. Alexander Fay, Alexey Sobolev, Andreas Höpfner, Casper Eicke Frederiksen, Charlie Varley, Christian Block, Prof. Dr.-Ing. Christian Diedrich, Detlev Raguse, Dr. Jan Allenberg, Dr. Jörg Nagel, Florian Sommer, Holger Köther, Jelle Millenaar, Lisa Schneider, Marcos Andrade, Max Appel, Rafael Ribeiro, Sabri Goldberg, Thorsten Kroke
Additional resources  
---
Follow us on our official channels for the latest updates:
Discord | Twitter | LinkedIn | Instagram | YouTube