IOTA in Gaia-X 4 Future Mobility
The IOTA Foundation Contributes to Gaia-X 4 ROMS: Support and Remote-Operation, for Autonomous and Linked Mobility Services
TL;DR:
Gaia-X 4 Future Mobility projects have kicked off with 80 partners from the industrial and scientific world working together to develop the groundwork for smart mobility, vehicle technological concepts and industrial applications. The IOTA Foundation provides its technologies in order to enable trust-supporting services for the mobility of the future.


In August last year, we updated you about our participation in Gaia-X, an initiative driven by leading enterprises, research institutions, and the European public sector, aiming to enable secure, open, and sovereign use of data in Europe and beyond.
Now that the Gaia-X 4 Future Mobility projects have officially kicked off, it's time to share more details of our plans for one of these projects. But before we dive into the particulars, let's look at the fundamentals of how Gaia-X is structured and what its goals are.
What is Gaia-X?
Gaia-X was initiated to enable a secure, open and sovereign use of data. In this way, self-determined decisions can be made on how and where data is stored, processed, and used within the data infrastructure. Gaia-X is characterized by the following core elements:
It aims to create the next generation of data infrastructure for Europe, its states, its companies, its citizens, and its global partners.
This infrastructure needs to meet the highest standards in terms of digital sovereignty and foster innovation. Gaia-X regards this infrastructure as the cradle of an ecosystem, where data and services can be made available, collected, and shared in an environment of trust.
The concept focuses on the precise needs of users and the added benefit as presented by the use cases.
The existing concepts will be regarded as a proposal to Europe. Gaia-X is pursuing this path alongside other European partners and in cooperation with the European Commission.
Why does Europe need Gaia-X?
There are three reasons why Gaia-X is needed:
Data availability: There is a need for a trustworthy, secure, and transparent data infrastructure to exchange and process data to use the economies of scale created by the availability of large data sets in Europe.
Innovation: The need for a digital ecosystem that allows innovative products that help European companies to be developed and business models to scale up and be globally competitive.
Data sovereignty: Existing cloud offerings are currently dominated by non-European providers. They can rapidly scale their infrastructure and hold significant market power and large amounts of capital. At the same time, growing international tensions and global trade conflicts can be witnessed. Europe needs to ensure that it can establish and maintain digital sovereignty permanently.
What are the key deliverables of Gaia-X?
Gaia-X aims to create standards, foster software communities, and facilitate the creation of data spaces. Therefore, Gaia-X focuses on three outcomes:
Architecture specifications describe the functionalities of Gaia-X and provide conformity criteria.
Open-source software code to ensure an open implementation of federation services and further enable an open-source community.
Instruments of certification including methods and tools for conformance testing and certification of services.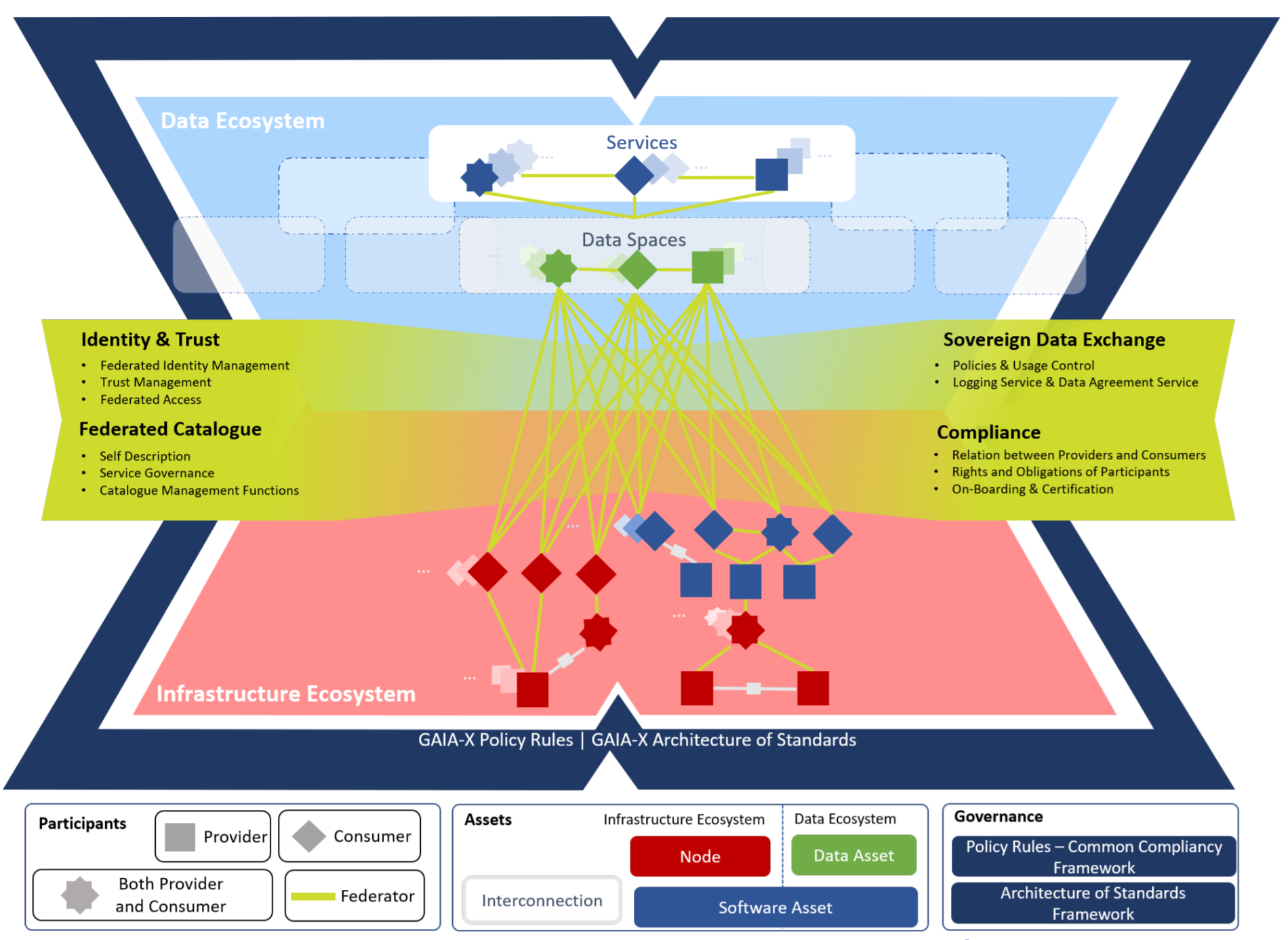 Structure of Gaia-X
Gaia-X is structured hierarchically and consists of the layers visualized in Figure 2. The different levels are explained with examples below.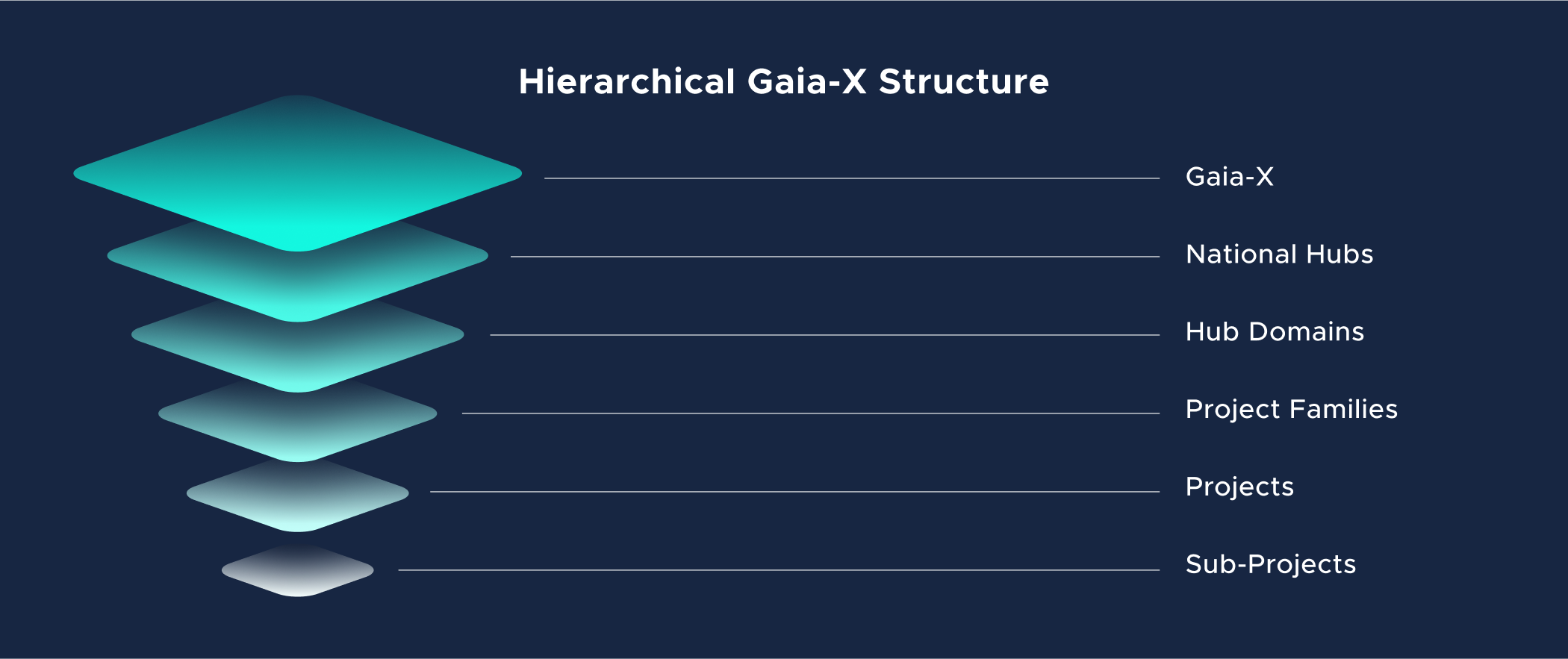 National hubs
The Gaia-X Hubs act as the voices of user ecosystems at a national level. They aim to develop ecosystems, bundle national initiatives, and provide a central contact point to interested parties in their respective countries. All Gaia-X Hubs are in close exchange with each other to ensure international alignment about their activities, defining requirements, and identifying regulatory hurdles. The network of Gaia-X Hubs will support the growth of a dynamic ecosystem from a bottom-up approach, from a national level to a European and international level.
Hub domains: Gaia-X Hub Germany's mobility domain
According to the website of the German Federal Ministry for Economic Affairs and Climate Action, the Mobility domain working group is primarily focused on the IT basis of data infrastructures and their development. The goal is a transparent and secure data infrastructure for cross-domain industrial collaboration. This should promote innovations in vehicle development and operation, enable new services, and improve the overall mobility experience. Use cases (e.g. from production or autonomous driving) will be used to develop concrete solutions that serve as the basis for application-agnostic software modules. Interfaces and usage scenarios from other Gaia-X domain working groups are taken into account because mobility-related data have high cross-domain relevance. From the domain working group agriculture to energy, health to smart city, new applications can emerge through these data. In turn, the mobility domain working group benefits greatly from geoinformation.
The data in the domain working group is largely generated by individual mobility and non-public product information from manufacturers and service providers and then flows back into mobility offerings. This results in high demand for data security on the one hand and usability on the other. Questions of data sovereignty, authorized use, and partial encryption become the focus. Big data enables AI-powered analytics and tools.
The interoperability of the Gaia-X data infrastructure can contribute significantly to sustainable and secure mobility. A connected and technology-open mobility ecosystem enables collaboration between all players along the entire product lifecycle: from manufacturers, suppliers, and raw material providers, to sharing economy initiatives and smart service innovations, to intermodal fleet management. Gaia-X protects personal rights and intellectual property; in line with EU regulations, products, services, and processes can be optimized, and safety risks and environmental impacts can be seamlessly captured and reduced following global and national regulations.
Project families: The Gaia-X 4 Future Mobility project family
A project family is a group of projects united around a shared theme. The Gaia-X 4 Future Mobility family consists of five projects that started in December 2021 and are set to last three years:
80 partners from industry and science are developing the foundation for intelligent mobility, vehicle technological concepts, and industrial applications
Projects in the family are coordinated by the Institute for AI-Security of the German Aerospace Center (Deutsches Zentrum für Luft- und Raumfahrt | DLR)
The main focus topics are digitization, traffic, smart mobility, big data, and artificial intelligence
The shared goal of the project family is the development of applications that enable close interconnectivity between users, service providers, manufacturers, and suppliers. Amongst other topics, the projects evolve around smart traffic infrastructure, product lifecycle management, or digital twins in the context of autonomous driving.
Project: Gaia-X 4 ROMS – Support and Remote-Operation for autonomous and linked Mobility Services
The IOTA Foundation is part of Gaia-X 4 ROMS, and the project family ensures that there is also close collaboration and regular exchange with the other projects in Gaia-X 4 Future Mobility. These multi-stakeholder environments can greatly profit from technology like IOTA, which can bring a layer of trust to any kind of data and value exchange.
New mobility solutions are supposed to secure public and freight transport while respecting climate protection aspects and the latest legislation for autonomous driving. Alongside decarbonization efforts, one focus is on empowering public transport and shared mobility services to lower overall traffic in general. According to the project partners, future vehicle concepts of public and freight transport will mostly be powered electrically and have a high degree of automation. Gaia-X 4 ROMS lays the groundwork for integrating such innovative vehicles in the overall system by developing concrete technological building blocks for vehicle-based mobility concepts.
The results will allow centralized and decentralized management of large vehicle fleets and their operation in cities and rural areas. Not only do innovative distribution methods take the requirements of travelers and dealers into account, but also the economic aspects of operating used vehicles. This will allow new concepts to be adopted, such as autonomously navigating package delivery stations for first and last miles or demand-oriented public transport mobility services.
In addition, the project will focus on the possibilities of remote operation to support autonomous vehicles reaching the boundaries of their system. The distributed system architecture supports necessary collaboration between the involved actors.
Altogether, this means we can build a system that can satisfy individual user requirements while still protecting the environment and providing the required level of safety.
The overall targets of Gaia-X for ROMS are:
Developing and provisioning technical specifications for remote operation and fleet management, which utilize the potential of distributed Gaia-X architecture.
Identifying possible scenarios, where intervention by a remote operator will be necessary.
Identifying economic requirements around operating autonomous vehicles and their fleet management.
Defining roles and responsibilities within the Gaia-X ecosystem and their technical representation in connectors.

Subprojects
Like all projects in the family, Gaia-X 4 ROMS is partitioned into six subprojects, which are described below along with an outline of the IOTA Foundation's contribution to each one.
Subproject 1: Gaia-X
Content: Subproject 1 is all about laying the foundation for the Gaia-X ecosystem. Next to definitions of governance structures and the high-level architecture, an essential component will be the Gaia-X Federation Services GXFS (Whitepaper | Video). The Federation Services can be seen as a toolbox providing the minimum technical requirements to empower a Federation (a group of participants that work together and collaborate on equal and horizontal lines) to become operational. The Federation Services toolbox defines a range of services necessary to fulfill Gaia-X's objective of building trust and interoperability, and ensuring that participants retain sovereignty over their data. The first set of services that will be delivered are:

Identity and Trust Services: to bridge today's trust gap, Participants will use Gaia-X Federation Services to build up tailored services that authenticate and authorize Participants in a Federation, for example via credential validation.
Federated Catalog: will be the repository of one Federation, enabling participants to find other Participants' information and service offerings in the shape of the Self-Descriptions mentioned earlier. Gaia-X Federation Services will provide the basic code for each Federation to build its own Federated Catalog.
Data Sovereignty Services: Gaia-X Federation Services will help Participants in a Federation retain sovereignty over their data by offering services that can create transparency and enable data usage control. These will include services that can facilitate contract negotiations and keep track of data transactions within Federations. These will empower Participants to determine and keep track of their data usage through different transactions.
Compliance: Gaia-X Federation Services will enable verification of compliance for the services being shared, to help assess if participants and services adhere to Gaia-X principles, for example in the fields of cybersecurity or data protection. Compliance checks verify during the onboarding phase of a new participant and will allow for continuous monitoring of services on the run. Additionally, these services will interact with a set of decentralized services (part of the Gaia-X framework) that will provide for notarization and governance and control mechanisms to further support trustworthy transactions between Participants and automation of the several credentials verification (these decentralized services are out of the scope of the Federation Services toolbox, and provide for a common layer of governance and control for any Gaia-X federation in a decentralized, sovereign and non-alterable or corruptible way).

Our Contribution: Our main focus in subproject 1 is providing a vital part of the Identity and Trust services with the IOTA Identity framework. Our current solution already satisfies the basic requirements of Gaia-X by utilizing World Wide Web Consortium (W3C) standards such as Decentralized Identifiers and Verifiable Credentials. We will make sure that further development of our Identity framework will happen alongside the guidelines of Gaia-X, in close collaboration with partners in the consortium and with high technical compatibility to the data connectors and interfaces of the Federated Catalog. Since decentralized applications and technologies have vastly different characteristics than classic and more centralized approaches, we'll contribute to the definition and implementation of governance structures as well as institutional role and action models for people, organizations, and machines.
Subproject 2: Infrastructure Ecosystem
Content: Subproject 2 is about identifying and implementing the different layers of information and communication technologies, which are necessary to support remote operation services in the first place. This consists of layers such as data, interoperability, processing, and analysis. The layers will be interconnected with each other and will have proper connectors and interfaces to enable communication among all actors in the use cases.
Our Contribution: We want to provide Gaia-X-compatible infrastructure components to allow seamless utilization of our unique feature set for the services relevant to the use cases. This means we will identify the requirements of a given use case and provide easy-to-use tools for IOTA node initiation and operation within the Gaia-X infrastructure ecosystem. These nodes will allow smooth interaction with the IOTA ecosystem for trusted and secure data and value applications.
Subproject 3: Data- and Services Ecosystem
Content: Secure provisioning and consumption of mobility data within the criteria of Gaia-X requires a decentralized data space for the mobility sector to be built. This mostly conceptually-available data space utilizes the Gaia-X Federation Services and integrates mobility data on one side and data refinement services on the other. In close collaboration with the other projects of the Gaia-X 4 Future Mobility family, this subproject aims for prototypical reference implementations (Minimal Viable Demonstrators, or 'MVD') of the described data space based on Frauenhofer's Mobility Data Space for the use cases covered in the subprojects four and five.
Our Contribution: The IOTA ecosystem provides ideal characteristics and components to bring trust to a decentralized data space and that's exactly what we want to achieve in this subproject. The immutability of stored datasets provides data integrity, digital signatures by trusted actors provide the necessary data authenticity and the unique capabilities of the core protocol allow feeless value transfers in a trustless environment. Depending on the requirements of the use cases and the broader Gaia-X ecosystem, the components will be developed, implemented, and made publicly available as open-source libraries for everyone to benefit from. For the MVD, we plan to develop one or more building blocks that serve a certain purpose (use case) by providing an integration of IOTA frameworks underneath. The building blocks can then be candidates for Gaia-X Federation Services (GXFS) to be easily accessible to the broad Gaia-X community.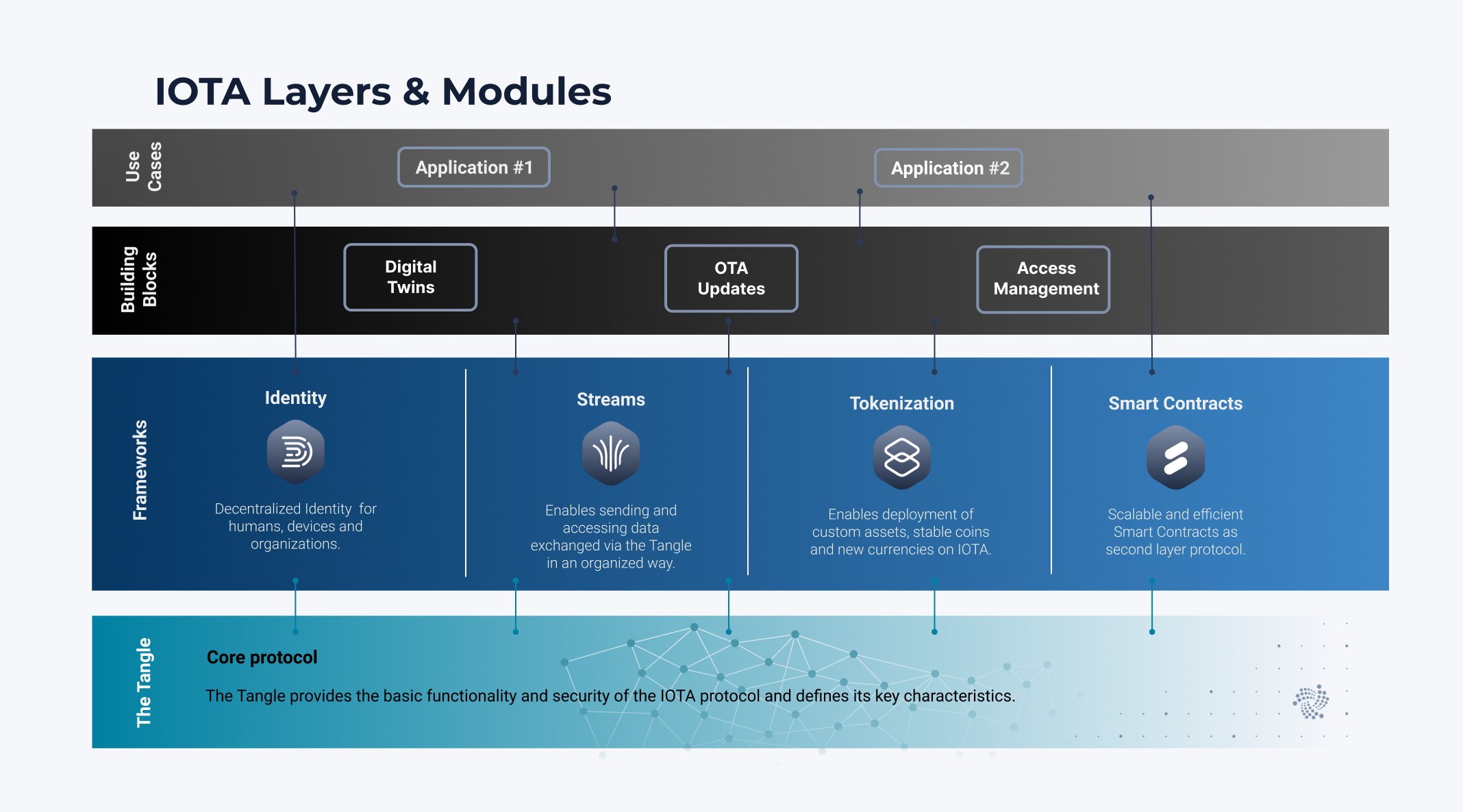 Subproject 4: Public Transport Fleet use case
Content: The Smart Managed Public Transport Fleet use case aims to develop new methods and technologies for optimal support of autonomous vehicles in local public transport. For the preparation of an innovative system concept, this subproject covers the following key aspects:

Decentralized Vehicle Management
Remote Operation
Predictive Distribution
Integration of autonomous vehicle fleets into urban traffic management

Our Contribution: Our involvement in both use case subprojects is mainly split into two parts. On one hand, we are gathering real-world and first-hand requirements for further development of our IOTA-based frameworks and services. On the other hand, we support partners in the consortium with the implementation of our technology components in their services.
Subproject 5: Freight Fleet use case
Content: In the Automated Freight Transport – Smart Managed Freight Fleet use case, the holistic flow of goods and commodities in the transport chain on the road is considered both inside and outside urban areas. Based on the transport processes, methods and technologies are to be developed that realize an automated, networked and multimodal transport system through the intelligent use of generated and available data. From the multitude of different transport systems, this use case focuses in particular on the future flow of goods and commodities in parcel and freight shipping.
Our Contribution: See subproject 4
Subproject 6: Exchange within the Gaia-X 4 Future Mobility project family
Content: Subproject six comprises the project management for the individual projects and actively contributes to the above-mentioned contents of the GAIA-X 4 Future Mobility project family. In particular, it contributes to the development and presentation of results at the level of the project family.
Our Contribution: We will contribute to the preparation of working group meetings to increase transparency and share results within the project family.
Next steps
The project is planned for three years to develop a demonstrator for the remote operation of autonomous vehicles and the management of centralized and decentralized fleets. The overall goal is to lower the carbonization of mobility by providing usable shared mobility concepts and optimizing fleet operation, even with multiple actors that cannot be managed centrally.
After the initial setup phase (Q1-Q3/2022) we aim to adapt our distributed ledger technology to the use case's requirements to provide a decentralized trust layer in compliance with the overall Gaia-X environment. In parallel, other partners aim to develop a data factory in about a year to provide all necessary data points. In Q2/2023 it is planned to start the development of the interface to the prototype of the demonstrator which will iteratively be extended until Q4/2024.

To find out more about Gaia-X, visit the official website gaia-x.eu and follow the Twitter channel @gaiax_aisbl; to read more about IOTA and the mobility sector, visit the IOTA website.
---