IOTA joins the Mobility Open Blockchain Initiative (MOBI)
IOTA Foundation Joins Leading Organizations in Consortium to Explore Distributed Ledger Technology for New Mobility Ecosystem
IOTA Foundation (IOTA) joins Bosch, Groupe Renault, BMW, Ford, General Motors, ZF, and other mobility and Distributed Ledger Technology (DLT) leaders to form a new mobility industry consortium fostering joint development of DLT standards, pilot projects, and open source software tools.
DLT provides new capabilities for improving driving safety and affordability, supporting autonomous and electric vehicle development and infrastructure, fostering ride and car-sharing applications, and connecting mobility participants in a new peer-to-peer ecosystem.
Berlin Germany, May 2, 2018 — IOTA announced today that it has joinedMOBI, the Mobility Open Blockchain Initiative, to explore blockchain and distributed ledger technology for use in the development of a digital mobility ecosystem that could make transportation safer, more affordable, and more widely available. IOTA is collaborating with the MOBI and other industry, government, and non-profit partners to foster a digital environment where users — both businesses and consumers — may securely record driving data, manage ride-share and car-share transactions, and store vehicle identity and usage information. MOBI is actively working with companies accounting for over 70% of global vehicle production in terms of market share. MOBI and partners, including, BMW, Bosch, Ford, General Motors, Groupe Renault, ZF, Aioi Nissay Dowa Insurance Services USA and others seek to foster an ecosystem where businesses and consumers have security and sovereignty over their driving data, manage ride-share and car-share transactions, and store vehicle identity and usage information.

DLT sends information over a network of independent computers, known as a distributed ledger, intended to ensure that transactions are secure and data privacy, ownership rights, and integrity are protected. IOTA and partners believe that DLT may create transparency and trust among users, reduce risk of fraud, and reduce frictions and transaction costs in mobility, such as fees or surcharges applied by third parties.  
"We are proud to be a member of the MOBI and partnering with other leading global companies to drive industry standards that unlock the potential of DLT for the mobility sector to establish a seamless, safe, and affordable mobility experience. As the world is starting to recognize the huge potential of decentralized ledger technology it is essential to establish the key functionalities for a scalable ecosystem based on the principles of open source, collaboration and permanent innovation that drives broad — scaled technology adoption"— Dominik Schiener and David Sønstebø Co-founders, Co-Chairmen of the Board of Directors, IOTA Foundation
Through an open-source approach to software tools and standards, the MOBI consortium hopes to stimulate more rapid and scalable adoption of DLT applications by other companies developing autonomous vehicle and mobility services. IOTA is pleased to join MOBI to collaborate with global partners on the development of DLT-enabled vehicle data and mobility services applications.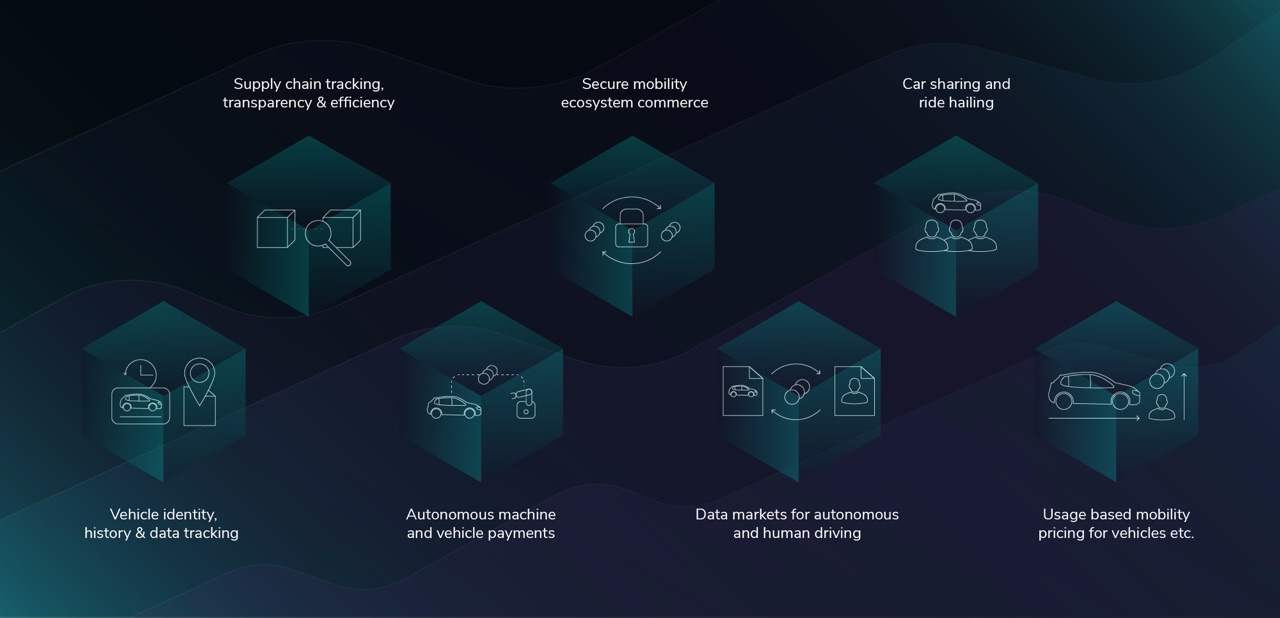 IOTA looks forward to be working with MOBI on projects related to:
Vehicle identity, history and data tracking
Supply chain tracking, transparency, and efficiency
Autonomous machine and vehicle payments
Secure mobility ecosystem commerce
Data markets for autonomous and human driving
Car sharing and ride hailing
Usage based mobility pricing for vehicles, insurance, energy, congestion, pollution, infrastructure, etc.
"I'm excited that MOBI is coordinating this initiative to use blockchain technology to create a more open platform where users, owners, mobility service companies, and infrastructure providers can better control and monetize their assets, including their data," said Chris Ballinger, Chief Executive Officer of MOBI. "Our hope is that other industry stakeholders will join this effort to accelerate the adoption of this technology to create a new ecosystem of clean, safe, on-demand, reliable and affordable transportation."

MOBI's partners also include: Accenture, Aioi Nissay Dowa Insurance Services USA, Beyond Protocol Inc, BigchainDB, Blockchain at Berkeley, BMW, Bosch, Chronicled, ConsenSys Systems, Context Labs, Crypto Valley Association, Dashride, Deon Digital AG, Digital Twin Labs, DOVU, Fetch.ai, FOAM, Ford, General Motors, Hyperledger, IBM, the IOTA Foundation, Luxoft, MotionWerk, NuCypher, Oaken Innovations, Ocean Protocol, Outlier Ventures, Groupe Renault, Ride Austin, Shareing, Shift, Spherical Analytics, the Trusted IoT Alliance, VeChain, Xain, and ZF Friedrichshafen AG
MOBI and its partners announced their collaboration today, 2nd May 2018, at the Future Blockchain Summit in Dubai.
About IOTA Foundation
IOTA is a not-for-profit foundation incorporated and registered in Germany. The IOTA Foundation's mission is to support the development and standardization of new distributed ledger technologies (DLT), including the IOTA Tangle. The IOTA Tangle is an innovative type of DLT specifically designed for the Internet of Things (IoT) environment. It is an open-source protocol facilitating novel Machine-to-Machine (M2M) interactions, including secure data transfer, fee-less real-time micropayments, and the collection and dissemination of sensor-based and other types of 'oracle' and other data. www.iota.org  
Useful contacts