IOTA Opens Up IOTA Academy
The IOTA Foundation (IF) has launched its first international IOTA academy program in close cooperation with the IOT1 Academy, a deep tech academy based in Berlin and Shanghai.
Under https://training.iota.org, the IOTA Foundation offers a selection of online trainings as well as blended trainings for coders & developers. In the upcoming weeks, this first set will be complemented by trainings for non-coders, e.g. blockchain enthusiasts, futurists and students, but also corporate project managers, concepters and c-level managers to enhance their knowledge about IOTA, its technology and the huge disruptive potential IOTA offers for economy and society as the 3rd generation of distributed ledger technology (DLT).  
All courses can be purchased online through training.iota.org and come with curated digital content, presented through a Multi Device Learning App for desktop and mobile. This offers a hands-on experience and practical approach through use-cases and code examples.
Onboarding Course for Developers
Starting on April 26th with the first training access, the "IOTA Onboarding Course for Developers", the app-supported learning training, educates coders who are eager to start developing their applications on IOTA's Tangle — an open source, highly scalable and zero-fee Distributed Ledger Technology.
The course contains the following contents and enables coders with:
Basic understanding of IOTA technology
Overview of the IOTA ecosystem and applications
Overview of programming libraries and resources
Sending and receiving transactions and messages in the Tangle
Sending and receiving data streams with the MAM library
Participants can choose between three different course formats:
1.Pure digital (via app use only — no messenger)- A six week online training via the app.
2.Blended training (app + direct contact to trainers via messenger)- The app, along with a dedicated IOTA Developer/Trainer via messenger, challenge the participants through practical tasks and answer questions on demand during the duration of the course.
3.Blended seminar (app + direct contact via messenger to trainers + onsite seminars in Berlin with the same trainers)- The participants can also choose a 3-day onsite seminar, supported by online training & trainer support via App before and after the seminar. Group seminars and international locations can be booked on demand.
The digital academy concept provides personal support of experienced IOTA programmers to answer questions for the participants in real-time. In addition, the IF promotes the democratization of knowledge by reducing the pricing by up to 50% for private participants.
All participants will receive a certificate of attendance, which can be directly verified by 3rd parties on the Tangle: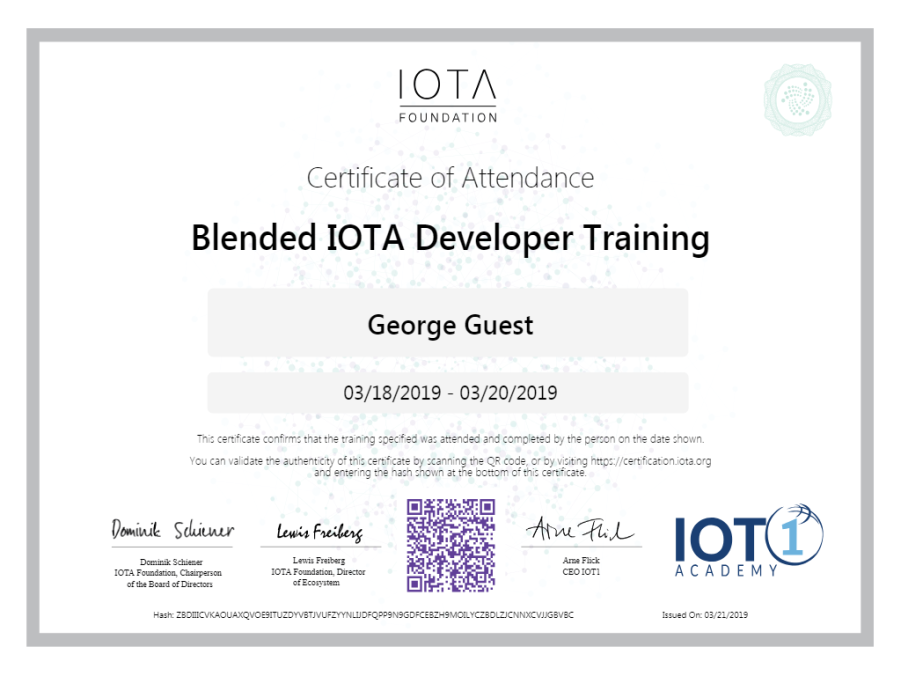 Holger Köther, Director of Partner Management at the IOTA Foundation:"We are excited to offer a structured online and onsite training framework with curated content and individual participant support, carried out by one of the most experienced partners in the corporate training field. We believe an investment into IOTA Education, as well as acquiring deep knowledge in short time, will be of great benefit for corporates, engineers and developers to actively shape the upcoming IoT, Machine-to-Machine ecosystems."
Arne Flick, CEO of IoT1 Academy:"We are honored and very happy to have been chosen by the IOTA Foundation to operate and maintain the first courses for IOTA to help people to acquire IOTA knowledge fast and sustainable. IOTA and its strategic positioning as the backbone of IoT is the most important 3rd generation distributed ledger for IIoT. For this reason the IOT1 Academy started to develop as one of the first academies worldwide to own IOTA learning formats to help people better understand IOTA, its technology, the strategy and the ecosystem behind it, as well as enabling coders and non-coders to acquire technical and practical IOTA skills."
In addition, students have the opportunity to prove their expertise through an official IOTA Developer certification. The certification is optional, independent of the training and not included in the training pricing. This enables IOTA experienced developers to get certified independently after acquiring development know-how through the IOTA Academy or by self education.
The IOTA Developer Certification consists of a written and an oral assessment, carried out by members of the IOTA Foundation. Successfully certified applicants will receive a Certificate of Achievement, which the authenticity of can be verified by 3rd parties directly on the IOTA Tangle.  
To celebrate the start of the Academy, we will offer a 27% discount over the next 6 days on the IOTA Developer Certification pricing. We also offer reduced prices on the training for students or active members of the IOTA community as well as underprivileged people. If you think you are eligible for a price reduction please write us an email to [email protected].  
The IOTA Developer Certification can be booked directly at Eventbrite.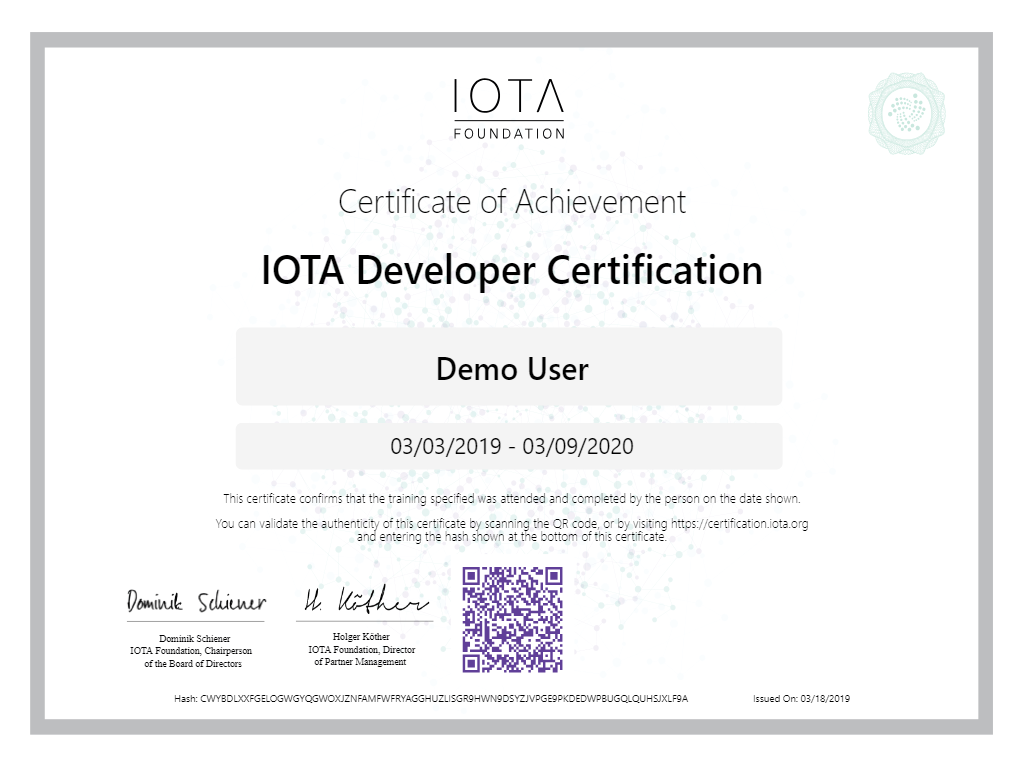 Contact IOTA Foundation for questions answered via e-mail ([email protected]). The contact person on side of the IOT1 Academy will be Courtney Allis, answering questions via e-mail ([email protected]) or on the phone (+49–177–5956984).
Update 10th of May:
About IOTA Foundation
IOTA is a not-for-profit foundation incorporated and registered in Germany. The IOTA Foundation's mission is to support the development and standardization of new distributed ledger technologies (DLT), including the IOTA Tangle. The IOTA Tangle is an innovative type of DLT specifically designed for the Internet of Things (IoT) environment. It is an open-source protocol facilitating novel Machine-to-Machine (M2M) interactions, including secure data transfer, fee-less real-time micropayments, and the collection and dissemination of sensor-based and other data.https://www.iota.org
About IOT1Academy
The IOT 1 ACADEMY is a deep tech academy for mainly corporate education of employees in the field of Industrial Internet of Things (IIoT), also called Industry 4.0 in Germany. The digital academy supports companies in digitizing parts of their production and administration with the latest IoT-Technologies. Blockchain — especially IOTA courses of a wide range — are a strategic focus area of the IOT1 Academy since the digital age of M2M and the change coming with the Industrial Internet of Things (IIoT) is a game changer for wide parts of the industry and IOTA is best positioned for IIOT. The particularly practice-oriented, digital academy IOT1 ACADEMY therefore uses the latest didactic, app-based methods to enable particularly sustainable learning and a high level of learning transfer. http://iot1.academy