Community Spotlight: Lidbot — building the future of waste management
Unlike others, the waste management industry hasn't significantly changed since the invention of the garbage truck in 1937. Since then, the collection of waste bins has become more expensive — with costs now at an all-time high.
Lidbot reduces the cost of waste management using new technologies. Lidbot provides cost-effective and sustainable solutions to create cleaner indoor and outdoor spaces for all. Their first product, "the Lidbot", is a fill-level sensor that is able to measure waste and recycling bins in real-time. Detecting bin fill-levels with Lidbot contributes towards smartening up the entire waste management cycle, making it more efficient, predictive, on-demand and in real-time. Demand is high — the first batch of sensors sold out in only 4 days!
The problem with trash collection
While we witness every day that empty public bins are collected prematurely while others overflow, the costs of keeping cities clean are immense. Today, cities are paying millions to hire waste hauling companies to collect waste and recycling. The burden on cities is increasing as waste hauling companies relay the increased cost of fuel and minimum wages to their customers to remain profitable.
Moreover, the waste and recycling industry relies heavily on paper trails, trust and analog processes that can easily be manipulated. This has resulted in many broken promises, fraud, illegal waste trading, dumping, and corruption.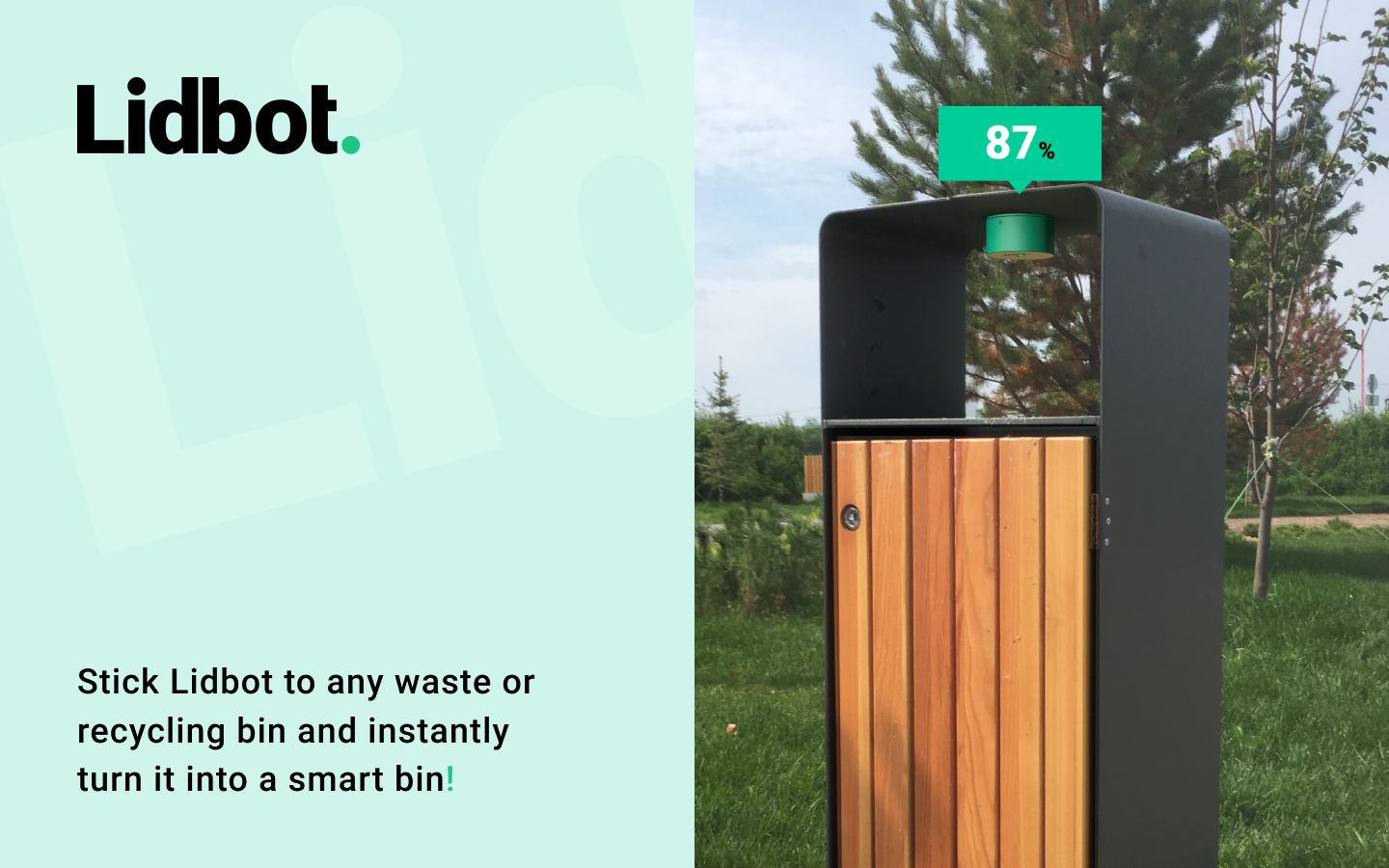 Lidbot: spend less, live cleaner
Lidbot enables cities, indoor malls, airports and others to collect important data, such as the amount of waste produced and pickup frequency. Lidbot provides both the sensor, which collects essential data and an extensive browser-based platform to display and analyze all information.
The wireless Lidbot sensor sends real-time notifications to pick-up services, notifying them when bins are full and need to be collected. It is battery-powered and tracks the fill levels of any bin or container for up to several years, down to the millimeter. The sensor is cellular-connected, allowing for easy plug-and-play installation and scalability: just put in the batteries, watch the sensor connect and you're good to go — again, and again, and again!
Fill level measurements and important bin events are sent to the IOTA Tangle. The data is stored in a permissionless and tamperproof way, creating immutable audit trails and transparency throughout the waste management process. The web-based platform allows Lidbot clients to easily organize and analyze this data, add automation and enhance their business intelligence and processes.
Small sensor, big impact
Using Lidbot helps clients reduce the cost of waste collection by up to 50%, by enabling them to see and analyze waste cycles in real-time, and optimize the collection process accordingly. Lidbot has already run successful pilots around the globe, including working with public entities such as Taipei City Hall, Singapore's Sentosa Island and a Fortune100 waste management company amongst others. Lidbot is active in eight different countries from the US and Europe to Asia and Australia. While Lidbot is currently focused on the indoor market, they are working on scaling their systems to outdoor solutions in the near future.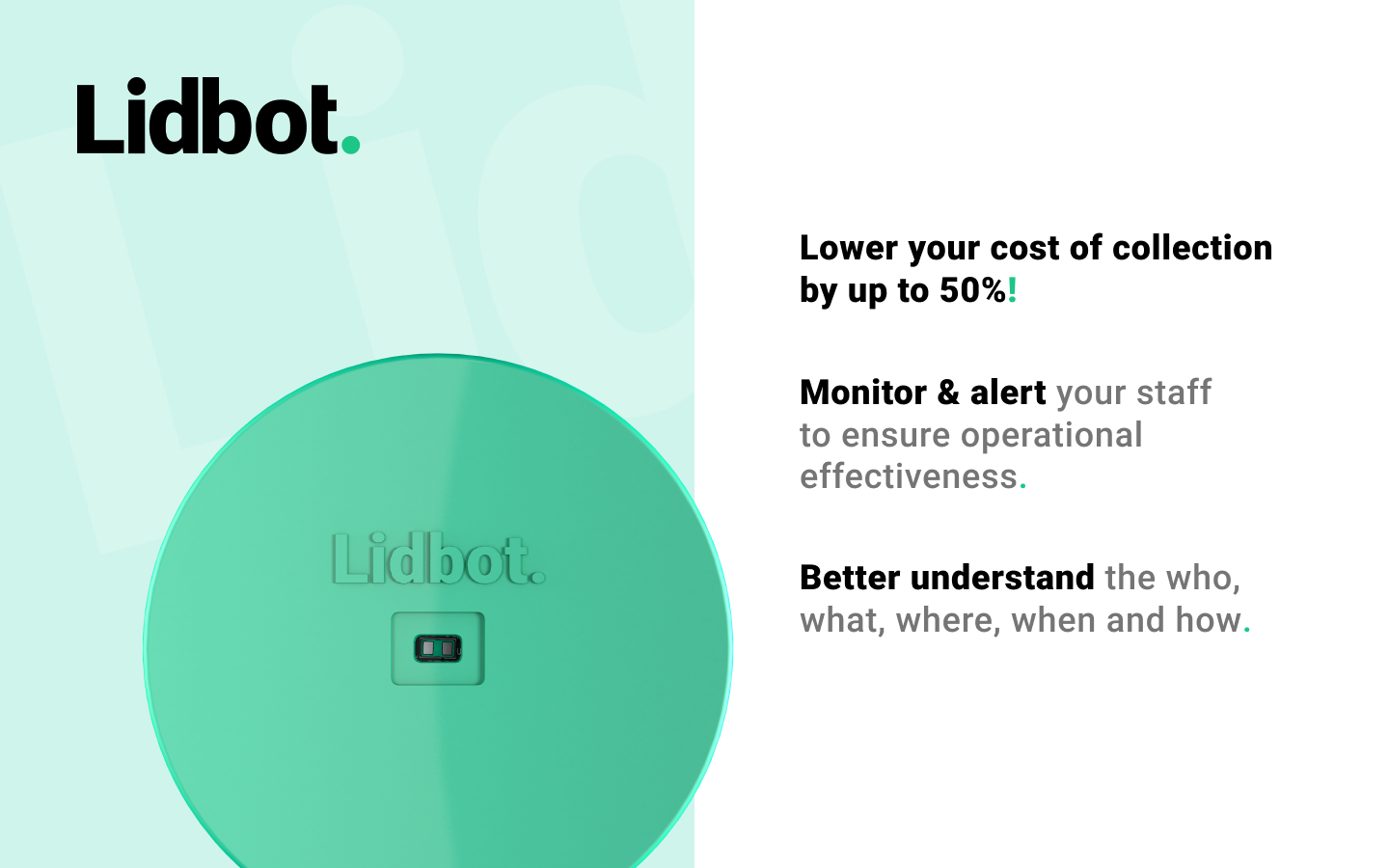 Lidbot & IOTA: The IOTA Tangle paired with Lidbot's hardware and software products allow for a decentralized, on-demand waste management system — today
The founders of Lidbot were individually drawn to IOTA's technology and met on IOTA's Discord channel. They envisioned a cleaner future by building a solution that enabled real-time monitoring and on-demand waste pickups.
IOTA stood out as an enabling technology for several reasons:
Flexibility: IOTA allows for secure data transfers first — with easy integration of value transfers later. No other blockchain accommodated for this need.
Tamperproof data: IOTA enables supply chain traceability and transparency to increase accountability and real-time insights throughout the waste economy.
Zero fees: It is a perfect fit for future business models such as (1) automatic payments between trucks, bins, and landfill entities, (2) microtransactions, and (3) fee-less data transactions for event recordings.
Permissionless & scalable: IOTA allowed for an open platform for waste and collection companies to connect as an ecosystem.
Lidbot is one of the first enterprise-adopted projects that grew from the IOTA ecosystem. It builds on the IOTA Tangle to ensure tamper-proof data, microtransactions and enables new, efficient, and sustainable business models for waste companies.
"From the beginning, we felt huge support from the IOTA community and the Foundation. We knew that IOTA's Tangle technology had the potential to be transformative and we've been able to build off of it to support projects with some of the world's largest waste management companies today. "— Ham Karami, Founder, and CEO, Lidbot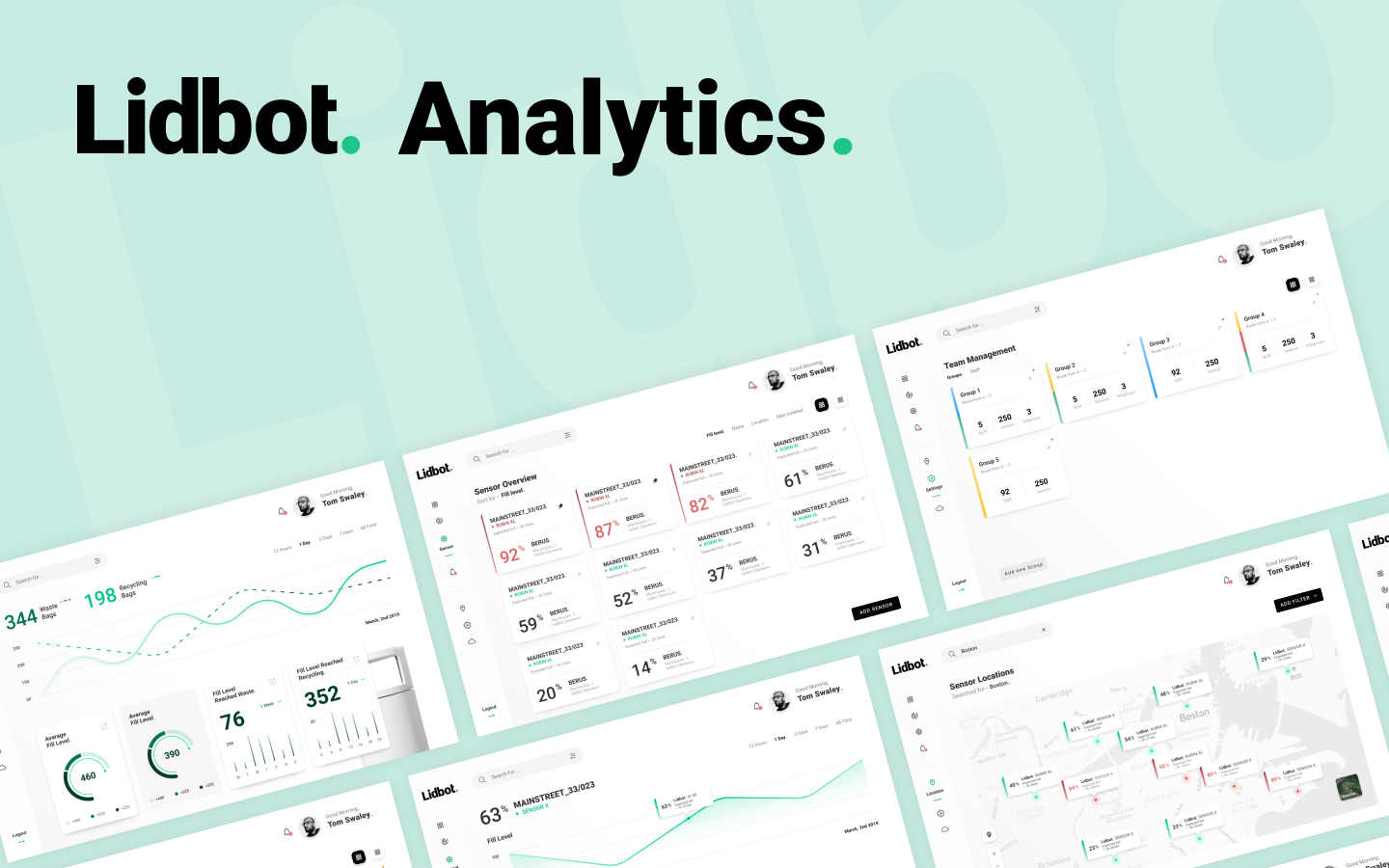 This is only the beginning for Lidbot and IOTA. There are clean(er) roads ahead.
The waste management systems of tomorrow will look different. The insights and efficiencies generated from data will be profound. Looking ahead, Lidbot plans to create an autonomous waste service: If a bin reaches its threshold value, it will get picked up by a truck that is paid directly after drop-off. The same principle applies across the supply chain as the truck gets paid by the landfill.
This enables a future, where the waste will be autonomously collected by small smart bin collection robots — keeping our schools, parks, malls, airports, and train stations cleaner than ever.
"Lidbot is a great example of the power of IOTA's ecosystem, helping to connect individuals and catalyze new solutions to address global challenges, like waste build-up and sanitation. Lidbot has an enterprise-ready solution built off IOTA and is already making a difference for their partners and in the local communities where the technology is deployed." — Corey Sheft-Tannenbaum, Head of Strategic Projects, IOTA Foundation
To learn more about Lidbot, please visit their website https://lidbot.com/ or contact Hamoun Karami at [email protected] To learn more about IOTA, please visit our website at https://www.iota.org/