New Public Testnet & Bug Bounty
We are happy to announce that, as we are nearing IOTA's official launch on exchanges, we are opening up a new public testnet together with a bug bounty program. Over the past months we've been working on refactoring and further optimizing IRI, to prepare it for larger stresstests (as you might have seen here), private deployments for corporates and an official rollout on our mainnet.  
To further battletest the software after our completed security audit, we want to make it possible for the public to participate and try out the new IOTA software for the first time. In order to incentivize active participation, we've set out an open bug bounty program that is aimed at non-technical testers, but also developers which more thoroughly review IRI.
In addition to IRI, we will also include iota.lib.js and the GUI Wallet into this program. A special version of the GUI Wallet, specifically for the testnet, will be prepared and released beforehand.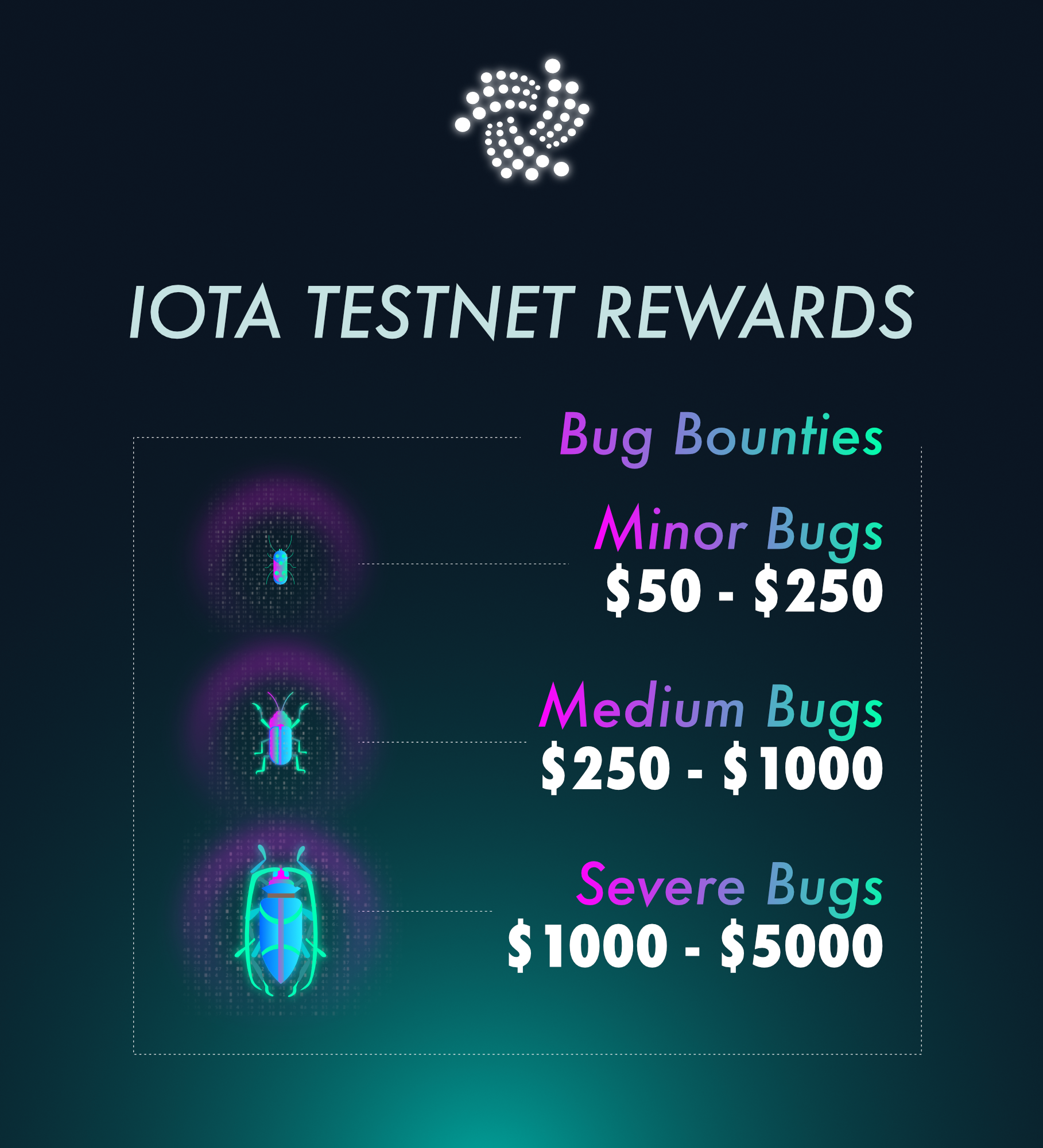 As seen in the picture above, we have a 3 tiered reward program, with the starting payout being $50, going up to $5000 for more severe bugs. We might also hand out some rewards for really active participants during the testnet.
In order for a "Severe Bug" to be paid out, the person submitting the bug also has to provide some more direct indication on where he / she thinks the issue lies and how it could be fixed.
We will pay significantly more for serious bugs that are reported. Those will be reviewed and taken care of by the entire team and discussed with you.
All rewards will be paid out at a fixed market cap of $200m.
The public testnet will officially begin on Wednesday 10th May 2017 at around 8PM CET. We will be running the bug bounty program and testnet even after the exchange launch, so we can assume that it will run indefinitely (as long as no major problems arise). Before we begin with the testnet, we already invite participants to the #testnet channel on our Slack where this entire operation will be coordinated from.  
We will provide further instructions to everyone on Wednesday.