Future of Transportation Infrastructure: ORCHESTRA Consortium and IOTA
TL;DR:
The IOTA Foundation is working with international partners on the EU-funded ORCHESTRA project, which aims to innovate the future of multimodal transport.
The IOTA Foundation will receive a share of 250,000 EUR of the 4.9 million Euro budget to provide expertise for integrating its distributed ledger technology.
At the end of May 2021, the IOTA Foundation joined 16 other organisations to kick off the ORCHESTRA project (under EU grant agreement No. 953618). The project is an initiative funded by the European Commission under the Horizon 2020 Framework Programme for the topic MG-2-11-2020: Network and traffic management for future mobility.
The virtual kick-off meeting spanned over two full days, May 20 and 27. Under normal circumstances, a kick-off meeting for a major collaborative public-funded European project such as ORCHESTRA is an opportunity to meet and interact with like-minded people from other partner organisations who will be working together for the duration of the project - often a matter of years. However, given the restricted mobility imposed by the coronavirus pandemic, virtual kick-off meetings have become the new standard.
Nevertheless, the ORCHESTRA project had a successful kickoff and began its journey to finally deliver the vision first developed by the participating partners when the project concept was created over a year ago. As usual in European projects, proposals need to be submitted at a fixed time in response to a funding call, with a handful of them awarded funding after careful evaluation by expert reviewers. In the case of ORCHESTRA, the consortium came together for the first time in February 2020, and after two submissions (the proposal call was divided into two stages), the project was awarded funding in January 2021.
Project fact sheet
The "Research and Innovation Action" ORCHESTRA project received a total budget of 4.9 Million EUR. The project runs for three years, from May 2021 until April 2024. The IOTA Foundation will receive a share of 250,000 EUR to provide its distributed ledger technology and share its team of various domain experts. ORCHESTRA is coordinated by ITS Norway and includes partners from six different countries: Norway (Norwegian Public Roads Administration; SINTEF; Applied Autonomy; Herøya Industripark), the Netherlands (Delft University of Technology), Switzerland (The University of Applied Sciences and Arts of Western Switzerland; CertX), Germany (IKEM - Institute for Climate Protection, Energy and Mobility) France (CEREMA - Climate & Regions, The Future) and Italy (SEA Group; FSTechnolgy; The Deep Blue Project).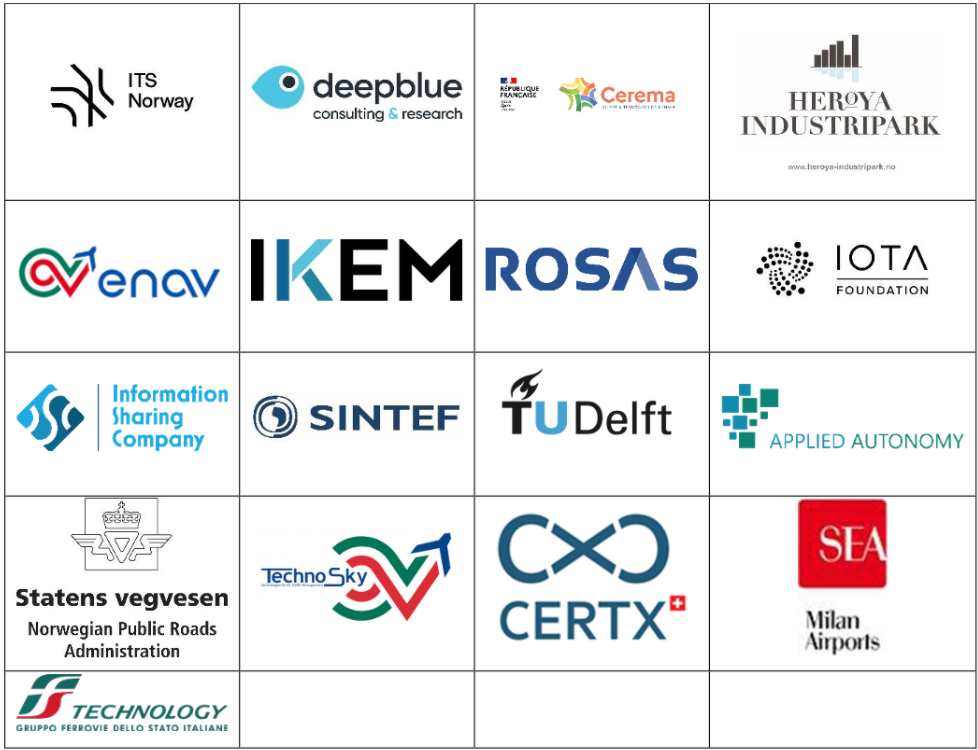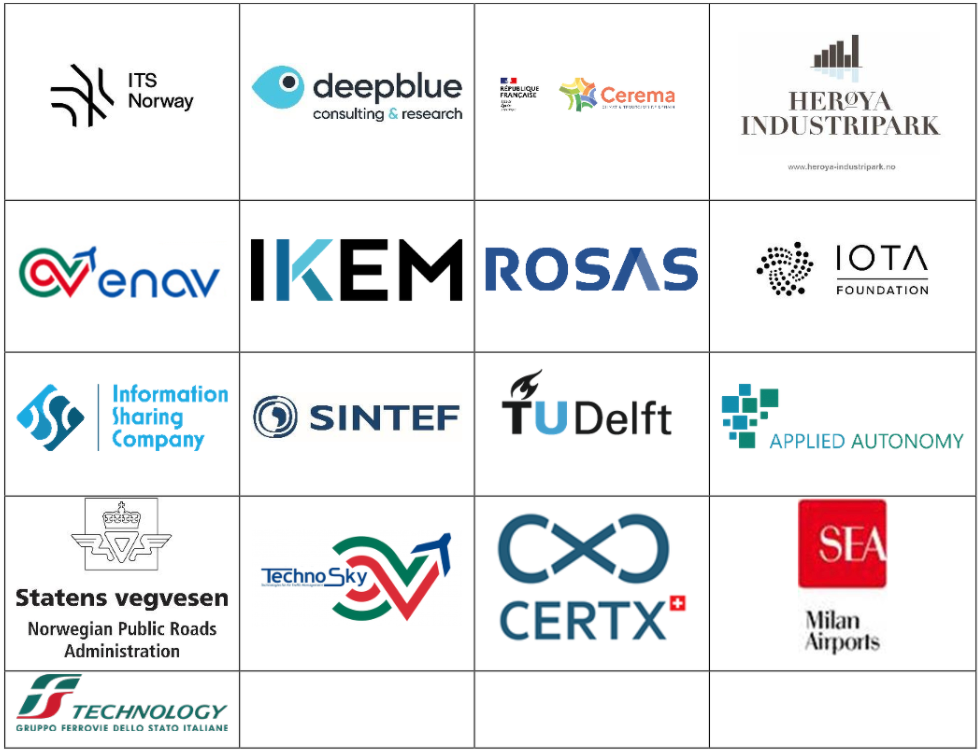 What is the project's vision and what will the partners work on?
As the name suggests, ORCHESTRA tackles the orchestration of traffic management in the emergence of connected and autonomous vehicles.
In particular, the project will follow a multidisciplinary approach. In order to understand the current limitations of existing traffic management systems, it will investigate the needs of a Community of Practitioners (CoPs) and organisations delivering different levels of transport services. ORCHESTRA also aims to break down transport silos. For this reason, existing technical limitations and regulations will be explored not only inside a single transport domain - be it road, railway, sea or air - but also at the intersection of all these domains. Crises such as the COVID-19 pandemic have amplified that conventional transport systems are not reliable when working in silos.
For instance, in order to implement social distance, it might not be enough to reduce the number of commuters on a subway train if those commuters then crowd together at a station waiting for a bus. Multi-modal transport relations need to be addressed holistically.
To this purpose, ORCHESTRA will explore limitations in terms of technical, business and legal/regulatory challenges. It will use the learnings collected during the first phase of the project to educate CoPs to foster innovation in the multimodal traffic management ecosystem and, from an operational point of view, to design a Polymorphic Multimodal Architecture (PMA). The PMA will act as a reference architecture to support innovations in traffic management and orchestration. As part of the PMA, the project will design and develop several enabling tools and test their impact in two scenarios, through simulations and real-life pilots.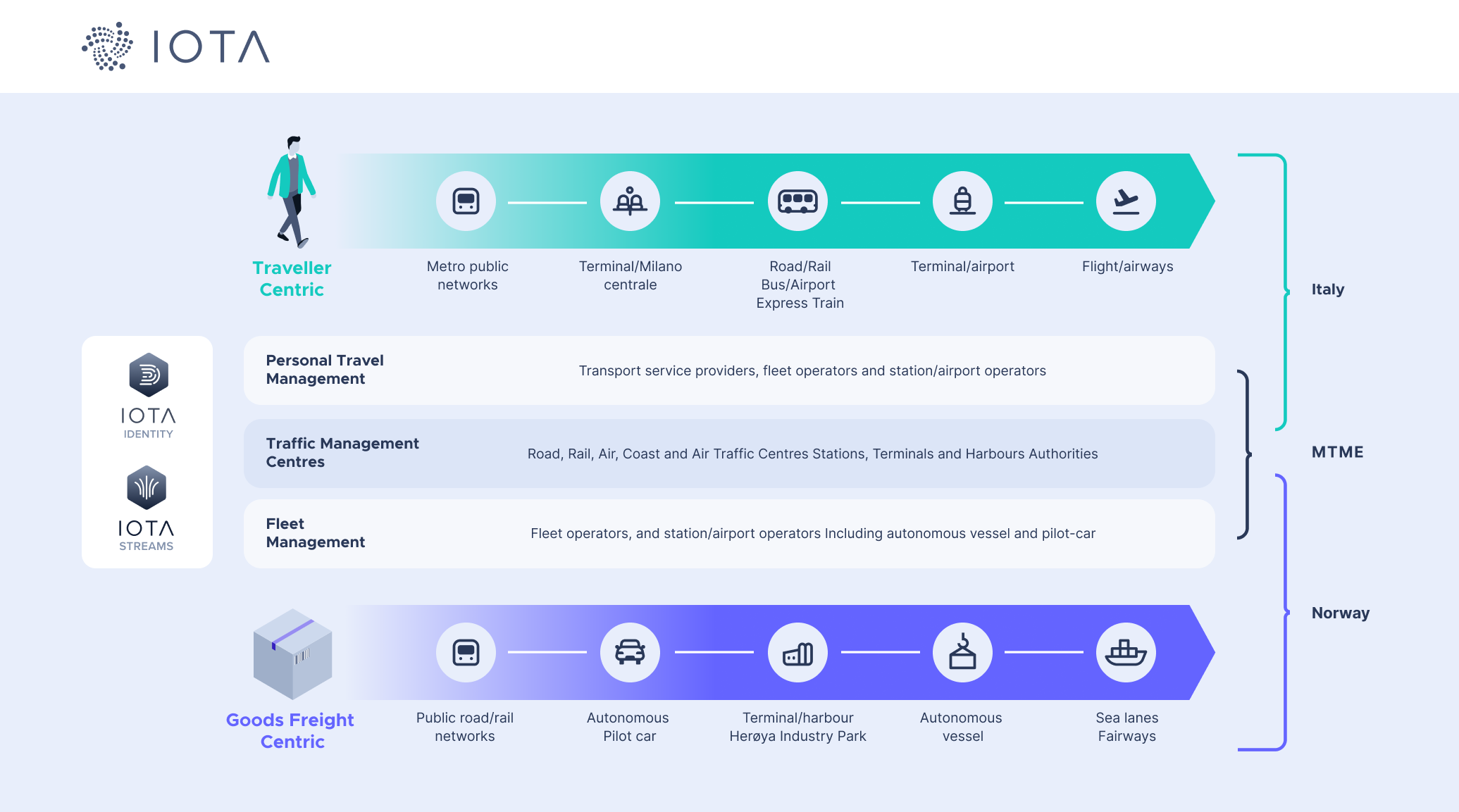 The two real-life pilots will be based on existing Living Labs in Norway and Italy. The Norwegian living lab will focus on fleet management and goods delivery across different modes of transport. At the same time, the Italian scenario will concentrate on travellers and people management, particularly in their journey from home to the airport. It will involve the International airports in Milan and other local transport authorities.
Results will be communicated and disseminated by the relevant partners. Education tools will be created in order to generate awareness on how to address multimodal transport orchestration and innovation.
The work will be organised in seven work packages and various tasks, each with well-established deadlines and deliverables.
What is the IOTA Foundation's role in ORCHESTRA?
The IOTA Foundation is the only provider of distributed ledger technology in the consortium. ORCHESTRA will leverage two particular strengths of the IOTA technology: the immutable and scalable ledger, and the decentralised identities. To achieve multimodal traffic management and orchestration, i.e. data needs to be shared seamlessly. Currently, data is collected by separate traffic infrastructures and only shared within the same domain. A distributed ledger, however, can be leveraged to move data across domains, from sea to road, to rail, to flight, affirming the data provenance, immutability and guaranteeing auditability.
On the other hand, managing movements of people, particularly in times of COVID-19 and other emergency situations, requires efficiently rerouting them across different modes of transport and without facing the challenges and security risks of sharing their personal information across different transport systems. To address this issue, decentralised identities and credentials represent the best way to empower travellers with control over their data. Verifiable credentials also allow travel documents and permits (tickets) to be quickly re-issued to specific identities and verified by different transport operators and even machines without ad hoc integration of multiple ticketing systems.
The IOTA protocol's feeless transaction structure, scalability and green consensus provides the best infrastructure to support the volume of data, identities and credentials required in multimodal transport.
The IOTA Foundation will help identify opportunities for innovation using the sectoral experience of its Market Adoption team, and identify requirements, design the architecture, and implement the required tools/deploy the needed infrastructure. Finally, we will test the impact of the proposed solutions in the two living lab scenarios. In particular, the Italian Living Lab will focus on the safe transportation of passengers from house to airport according to defined criteria, such as social distancing, while building safe travel corridors that can be adjusted and arranged in real-time.
The IOTA Foundation will communicate and work on standardisation activities to make the IOTA ledger and protocol the de-facto standard for the multimodal transport management system and orchestration of goods and people.
This ambitious project has just begun, so stay tuned for further developments. The first deliverable will be a report about challenges faced by the multimodal traffic management ecosystem and possible solutions to tackle the same.
---
Let's change the future of travel, together. If you want to learn more about ORCHESTRA or are working in a similar domain and leverage IOTA solutions, don't hesitate to reach out to us on Discord and our Project Lead, Head of Telco and Infrastructure Development, Michele Nati.