Selv Demo — A Digital Health Passport
The IOTA Foundation combined forces with the world's largest law firm Dentons in the Financial Times' Global Legal Hackathon to "innovate solutions to the most pressing legal, regulatory, and civil society challenges posed by the COVID-19 crisis". Together, we created a demonstration of how digital identity can give individuals control over their health data and its authenticity be guaranteed through IOTA. The architectural design of IOTA Identity has been validated by Dentons privacy lawyers, paving the way towards a full-scale solution.
Hackathon
The Global Legal Hackathon took place from April 27th to May 22nd. Dentons and the IOTA Foundation worked together on a mobile app and demo website, answered legal questions surrounding digital identity, and devised a plan to bring IOTA Identity to scale. IOTA Identity empowers individuals with control over their personal data, including health credentials, such as COVID-19 test results and vaccinations. The solution is GDPR-compliant, as reviewed by the Data Privacy lawyers of Dentons, allowing governments to deploy a privacy-first health passport.  
Check out the results in the hackathon gallery.
Selv
Selv gives you control over your digital identity and allows you to store, manage, and share verifiable personal credentials. The hackathon presented a great opportunity to explore the possibilities of Selv in the COVID-19 pandemic and demonstrate the notion of a health passport. Selv has a number of strengths:
Free & Accessible: The app is free and will be open source. There are no fees involved in using it.
GDPR-Compliant: Selv is a decentralized system for managing health and other personal data. The app and its use of IOTA are GDPR compliant.
Private & Secure: All personal data is encrypted and stored on the user's device. The solution will be fully audited by external security consultants.
Scalable & Interoperable: Selv follows the W3C specifications on identity.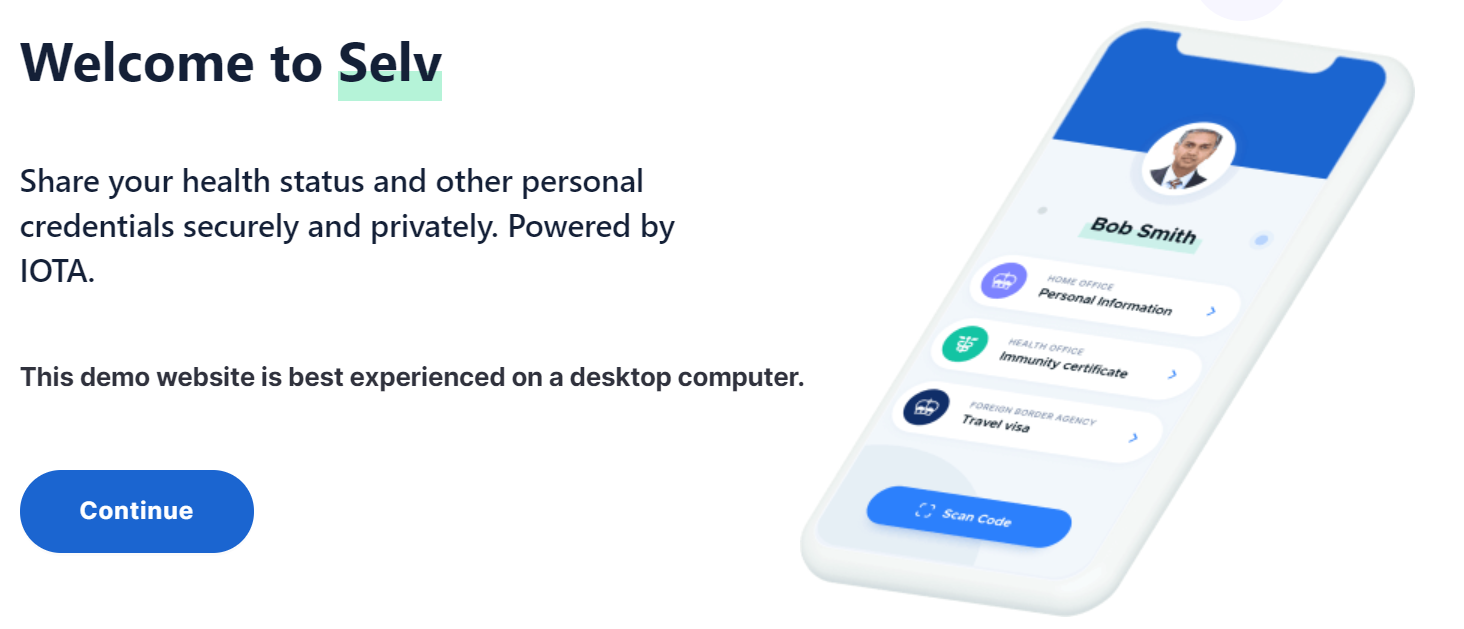 The Selv demo comprises a mobile app (iOS and Android) and an accompanying website. It explores a narrative around the safe reopening of workplaces and international travel. You acquire your COVID-19 test results from your National Health Authority, before sharing them with your employer to prove you are fit to work, and later to a visa agency to prove you are fit to travel.
Beyond the Hackathon
Selv's utility extends beyond the COVID-19 pandemic and is a great platform for educating our partners and community on the potential of IOTA Identity. Selv will have additional narratives depending on the interest of external parties. These narratives allow our partners to experiment with digital identity and explore how they can improve their business models. Selv is the first IOTA identity application, and provides a base for other interoperable identity wallets, such as Schluss, to integrate IOTA.  
Next steps
We are currently working on a full specification for IOTA Identity. A core identity library is being built to replace the experimental identity.ts, as well as a set of tools and libraries for easy integration. More information about our digital identity solution can be found in our whitepaper.  
If you are interested in exploring how IOTA Identity can help your organization, please reach out to us at [email protected]. Join the discussion in the #identity channel on our Discord.