Simply track the provenance and authenticity of your shirt
ALYX, EVRYTHNG, Avery Dennison and IOTA are coming together to deliver the collaboration needed to drive supply chain transparency forward.
We are in the midst of a sustainability revolution where many companies from designers, producers to transporters are changing their operations to deliver better and more sustainable products. But for the consumer it is still impossible to learn about the provenance of your specific garment and most information is based on a mix of marketing and corporate sustainability reports — as opposed to transparent information. Thus, it is with excitement that the IOTA Foundation is delivering our piece to the puzzle in this multi-stakeholder effort to give consumers full transparency.
By scanning a label with their smartphone, consumers can view the garment's "journey" and track it back from creation to the rack and point of sale. They can also confirm the authenticity of the product, along with its sustainability credentials. Brands will have full visibility of their product's journey throughout the supply chain, giving them access to data and statistics, via IOTA's distributed ledger, across different sales channels and consumer preferences in real time.
Distributed Ledger Technology is a team sport
IOTA delivers one of the key features needed for secure and trustworthy end-to-end provenance solution: data integrity to ensure that information at no time can be compromised.  
Other actors are providing equally important features as the supply chain for producing a T-shirt consists of many players.
1017 ALYX 9SM is a cutting edge fashion label dedicated to designing and producing with high quality materials.  
Avery Dennison is a global leader in providing end-to-end solutions in the apparel and footwear industry as they provide graphic tickets, tags and labels, embellishments, packaging solutions and woven components etc.  
EVRYTHNG is the market leading internet of things SaaS platform for consumer products, managing billions of unique digital identities in the cloud for data science intelligence on an item-by-item basis.  
By combing efforts in this project, it is possible to deliver the unique and simple feature to consumers, so they only need to scan the QR code to get visibility into the complexity of global supply chains.
How does it work?
The solution basically consists of a number of elements provided by each of the partners. Initially the garments are digitally activated at source and given a serialized QR code with a digital identity in the EVRYTHNG cloud. Supply chain data is collected by different supply chain members driven by Avery Dennision and stored in the EVRYTHNG cloud.
Data is written to, and validated on, IOTA's Tangle to ensure immutability. Consumers can scan the QR code on a product at point of sale or post purchase to see trusted provenance and authenticity. Furthermore, an analytics and reporting dashboard provides end-to-end product and engagement data for ALYX.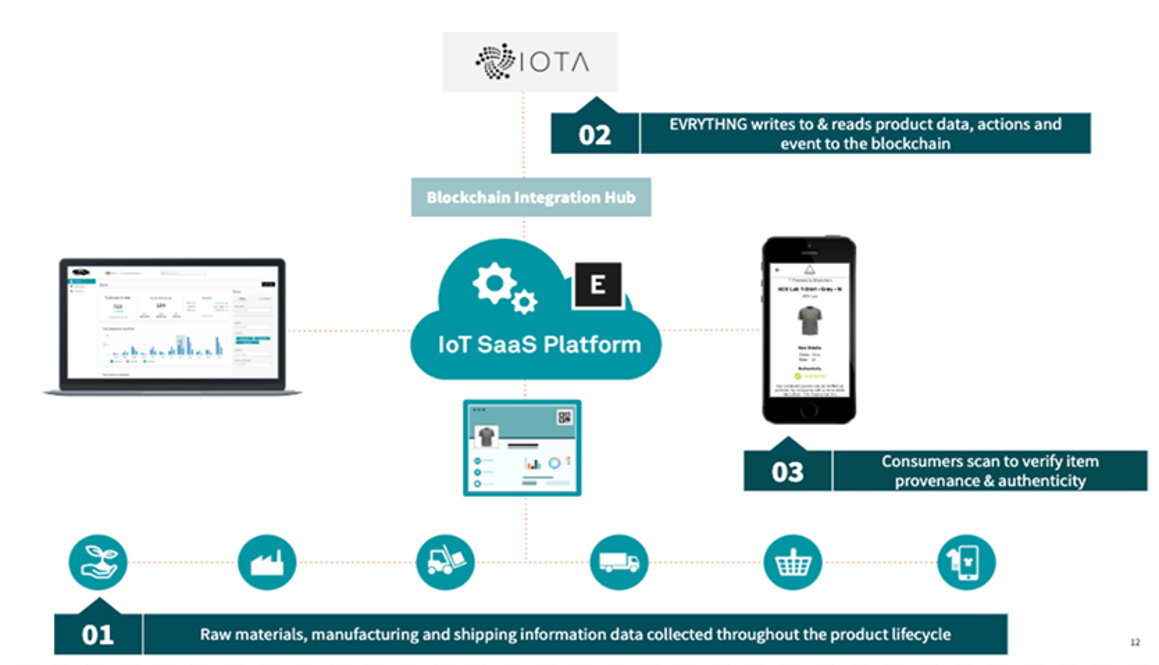 To read the official press release on this announcement here.  
You can view a demo of the customer experience after scanning the QR code of the garment with a smartphone here.  
To learn more about how IOTA and EVRYTHNG started to collaborate, ready this blogpost: https://blog.iota.org/iota-evrythng-2a9b4b9d922d