Trusted Supply Chain for Conflict-Free Resources
Tracing Raw Materials with IotaOrigin
TL;DR:
The IotaOrigin startup, which utilizes IOTA's Tangle to document fair trading of conflict-free minerals, is on its way to becoming the largest EU importer of such goods without ever owning any raw material. Focusing on artisanal small-scale mining in Central Africa, IotaOrigin uses IOTA to create a digital twin of the raw commodity to enable digital tracing. Through IOTA Streams, each participant within a supply chain can share due diligence data on the origin and mining conditions without disclosing their own trade secrets.


One of the most important steps in the fight against the climate crisis is reducing global warming to well under two degrees, as determined by the Paris Agreement. To achieve this, we need a successful energy transition from fossil-based to zero-carbon by the second half of this century. Key to this are innovations in the field of energy storage and investments in renewable energies. These include wind, solar, and storage technologies, which increase demand for certain raw commodities such as cobalt, graphite, lithium, and nickel.
The World Bank forecasts demand for these raw commodities to increase by up to 500% in 2050. This underlines the extraordinary relevance of these raw commodities. Consequently, the energy transition is closely related to a resource transition.
The problem with raw material mined in conflict areas

Many of the necessary raw commodities are classified by the EU as critical or conflict-affected. This means that sourcing these raw commodities on world markets is limited or can cause regional conflicts. In addition, a significant portion is extracted through artisanal small-scale mining. The number of people employed in this form of mining has tripled worldwide since 1993 to 45 million, with 60-150 million people indirectly dependent on it. Most of these workers are employed informally due to a lack of permanent jobs and are exposed to the risk of exploitative working conditions, which often result in human rights violations.
Leveraging IOTA Streams to share due diligence data
The goal of IotaOrigin, a Germany-based startup founded at RWTH Aachen University, is to contribute to an ethical and sustainable energy transition as well as to help the local communities of artisanal small-scale mining overcome the challenges they face.
For this purpose, IotaOrigin provides an application to make supply chains and trade more transparent. Using the IOTA network, a digital twin of the raw commodity is created to enable digital tracing. Through IOTA Streams, each supply chain participant can share due diligence data on the origin of raw materials and their mining conditions without disclosing their own trade secrets.
This distinction between public and private data is fundamental to establishing a free market and differs from existing closed-pipe certification models. EU importers can use the application to comply with international regulations such as the OECD Due Diligence Guidance for Responsible Supply Chains of Minerals from Conflict-Affected and High-Risk Areas or the EU Conflict Minerals Regulation and secure their supply of raw commodities in demand. In this way, IotaOrigin contributes to the responsible sourcing of raw commodities for the energy transition.
IotaOrigin further enables traceability to be provided free of charge to all parties in the supply chain through IOTA's feeless transaction network. This is particularly important for artisanal small-scale mining, which is migrating to the informal sector due to cost pressures from traditional tracking systems, preventing its formalization. Feeless tracking allows the system to scale quickly, which is of particular benefit to people involved in this form of mining.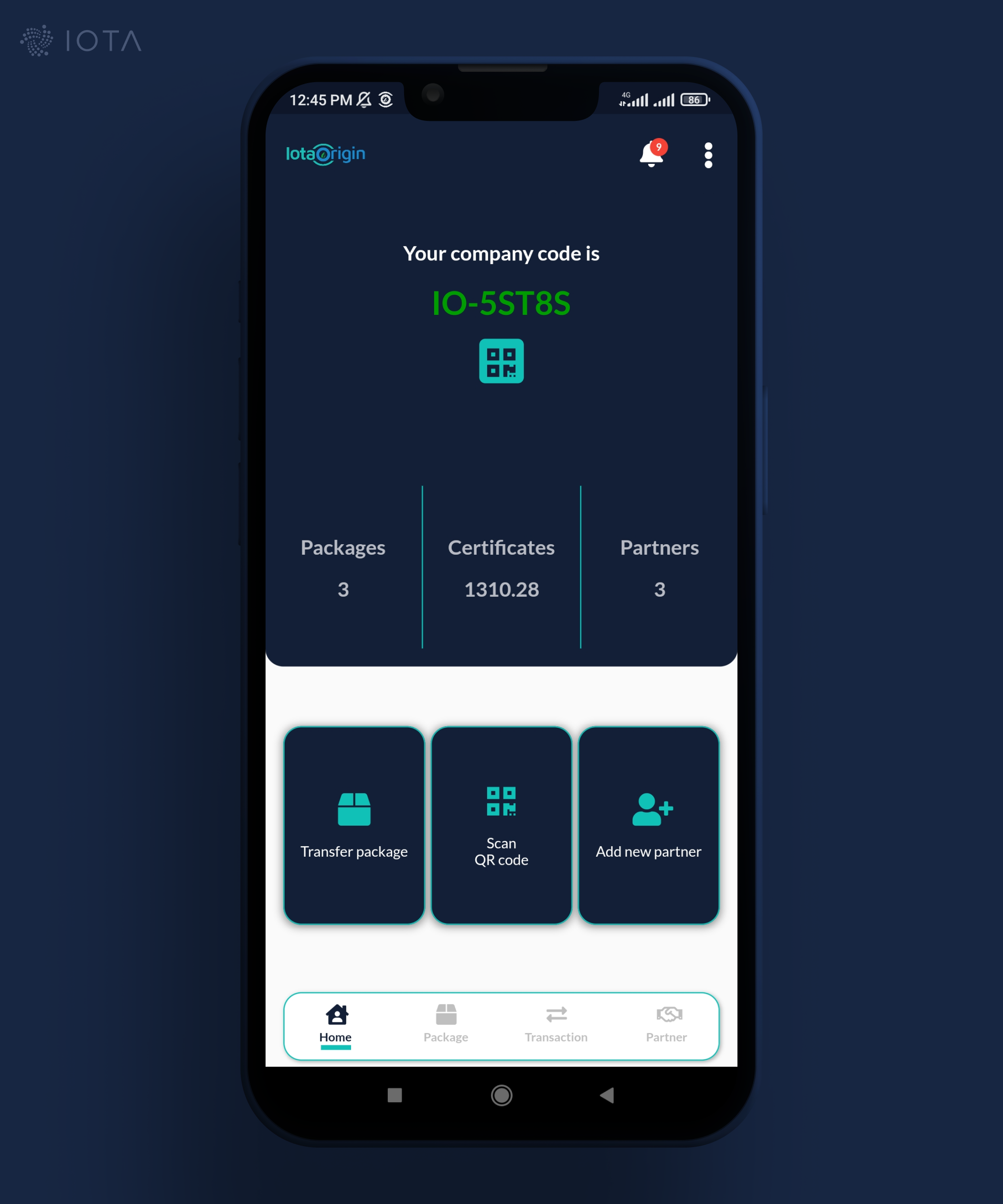 A screenshot of the menu tracking app
Next steps on the product roadmap
IotaOrigin is actively working in the Great Lakes Region of Central Africa. It does so with the help of the German Federal Ministry of Economics and Climate Protection, which supports the project within the innovation program for business models and pioneer solutions, the RWTH Aachen Incubation Program, Blockchain Reallabor NRW, the technology provided by the IOTA Foundation, and numerous national and international partners and organizations.
The Great Lakes region plays an important role in the procurement of raw commodities (its share of world production is as follows: tantalum 48%, cobalt 70%, and copper 8%). The current goal is to establish a cross-regional certification system. Furthermore, IotaOrigin is working on a platform for the standardization of international contracts, pre-financing, and insurance in commodity trading.
Outlook
IotaOrigin pursues the objectives of the UN's Sustainable Development Goals. Formalized artisanal small-scale mining enabled by IotaOrigin's application can contribute significantly to the fulfillment of the Goals by establishing sustainable and responsible raw commodities procurement.
As a result, local communities can be supported economically and the energy transition can be realized at the same time.
Work with IOTA Foundation
In the spring of 2021, the IOTA Foundation and IotaOrigin signed a non-disclosure agreement and a letter of intent. In Fall, IotaOrigin CEO Julian Wikalinski took part in a startup-centered interview campaign by the IOTA Foundation which was initiated to build a strong community by providing customized support. IotaOrigin utilizes the IOTA Streams framework and plans to integrate tokenization and smart contracts in future extensions.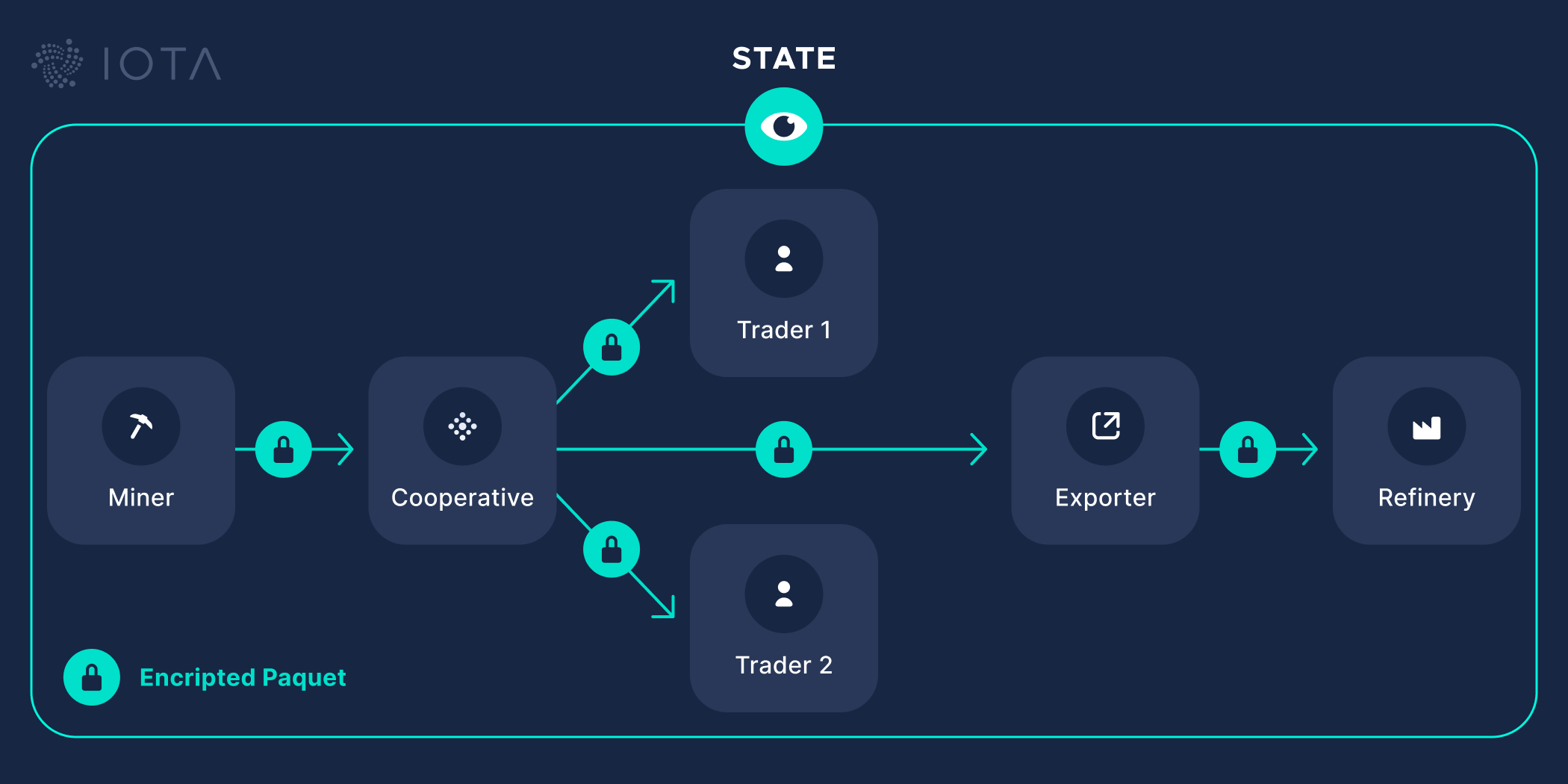 An upstream commodity supply chain

IotaOrigin's solution for trusted resources is an outstanding example of leveraging IOTA's distributed ledger technology to help make the world a better place. All participants benefit by relying on trusted data: Small mines get access to global markets while being incentivized to only trade conflict-free materials, local governments are enabled to control the mining circumstances and generate tax revenues, and importers can be assured of only using conflict-free raw materials.
The IOTA Foundation highlights new projects incorporating IOTA's distributed ledger technology. We assist ecosystem projects with technical support and networking to help them succeed. Neither the code base, services or any other offers by startups featured by the IOTA Foundation have been vetted. Therefore, our selection of projects is not to be considered as investment advice.


About IotaOrigin
IotaOrigin was founded at RWTH Aachen University and works in its innovation-promoting environment. The team and partners are represented on four different continents. The company is headquartered in North Rhine-Westphalia, Germany, which is the largest industrial and economic conurbation in Europe, accounting for 4.5 percent of European GDP (EU-27), and is based on a long mining tradition. It was the Coal and Steel Union that laid the foundation for the European Union and helped the region to prosper. IotaOrigin aims to create a model region through the digitalization of the mining sector in the form of an economic, ecological, and social commodity trading platform as part of the European Green Deal, thus contributing to the transformation of the region's long mining tradition.
Do you want to implement the vision of sustainable and social raw material sourcing with IotaOrigin? Feel free to contact IotaOrigin via the website or Twitter to discuss possible partnerships.
---
The Moonaco Podcast recently interviewed Julian Wikalinski about how IotaOrigin is aiming to revolutionize the mining industry: listen to it on Spotify here or Apple podcasts here.
---