SPYCE.5 to Accelerate Enterprise Adoption
Launch of First IOTA Foundation Spin-Off Entity
TL;DR:
SPYCE.5, a provider of blockchain and Web3 infrastructure, data, and digital identity as a service for enterprises, builders, creators and developers, is the first entity to be launched as a spin-off of the IOTA Foundation. SPYCE.5 is co-founded by two former IOTA Foundation executive directors and an active member of the IOTA community, and the IOTA Foundation is a strategic partner.
Last year, we announced our plans to spin out internal projects and solutions into independent entities. We are excited to introduce our first spin-off, SPYCE.5, which will accelerate enterprise adoption on IOTA and Shimmer. SPYCE.5 offers enterprise-ready blockchain infrastructure, data management, and web3 tools as a service through its managed SaaS platform. This enables companies to easily build and maintain real-world products, applications, and use cases such as creating digital identities or exchanging real-time data securely between multiple parties.
The benefits of SPYCE.5
SPYCE.5 offers two major benefits to organizations: frictionless data flow and automation.
1. Frictionless data flow: Digital technologies are rapidly transforming business operations by automating manual processes, reducing costs and risks, and enhancing security and revenue. At the same time, decentralized blockchains offer a secure and transparent way to manage data, enabling the instant and secure transfer of digital assets and data between businesses, customers, and organizations.
When combined, digitalization and blockchain can benefit organizations with multiple data sources or where assets or data are exchanged between multiple parties. For example, businesses can use blockchain to securely store and manage digital identities, while leveraging digitalization to automate identity verification processes like Know Your Customer.
However, businesses can struggle to navigate the blockchain industry or have difficulty understanding how to utilize the technology. SPYCE.5 was born to solve this challenge.
2. Unlocking the potential of automation: IOTA's Tangle architecture offers high scalability, feeless transactions, and energy efficiency. This innovative approach is expected to surpass traditional blockchains, resulting in increased security, scalability, and shorter transaction times for businesses.
SPYCE.5 builds on IOTA to deliver global automation. Businesses can connect directly, without intermediaries, and increase their trust in underlying data. Connecting all market participants enables faster settlements, reduced paperwork, improved customer experience, and increased efficiency.
SPYCE.5 streamlines adoption for enterprises
Holger Köther, Co-Founder of SPYCE.5 (and former Executive Director, Market Adoption at the IOTA Foundation) said: "At the IOTA Foundation, the Market Adoption team was responsible for working with several grant consortia and enterprises on developing Proofs of Concepts. Having worked with FT500 companies and regulators, we realized that progress and momentum tend to slow down within organizations without the necessary tooling and services to support continued development. SPYCE.5 was born from these insights and helps companies realize the full benefits of the technology both during and after development."
Building on the higher scalability, shorter transaction times, and increased security offered by IOTA in comparison to traditional blockchains, SPYCE.5 will empower businesses to connect directly without intermediaries and improve trust in the underlying data. By connecting all market participants, organizations can support faster settlements, reduce paperwork, improve customer experience, and improve their efficiency.
SPYCE.5 will offer Web3 tools, data management, and blockchain infrastructure through its managed SaaS platform. SPYCE.5 will provide significant value to enterprises, builders, and creators by reducing the complexity of building on Web3 by offering integration with simple APIs as a Service to integrate into. This reduces costs and enables developers to focus on what's important – creating and scaling their core business applications to millions of users without worrying about managing and maintaining the complex underlying backend infrastructure.
Sustainable Web3 as a Service
With its B2B platform, SPYCE.5 addresses two core groups:
1. Builders, creators, and developers: With the upcoming launch of EVM on Shimmer (and later IOTA) we will have more home-grown projects and a major migration of dApps to our networks. SPYCE.5's services for builders will include the hosting of infrastructure including nodes and smart contract validators, as well as scalable APIs to interact with the ledger in real-time. This includes the management of digital identities, NFTs, and tokens across the Shimmer and IOTA ecosystems.
It's already possible to launch a fully synchronized node in under five minutes through the SPYCE.5 platform:
In the future, SPYCE.5 will provide simple API-based access as well as dashboards to accelerate the development and deployment of dApps as well as smart contract chains and validator consortia.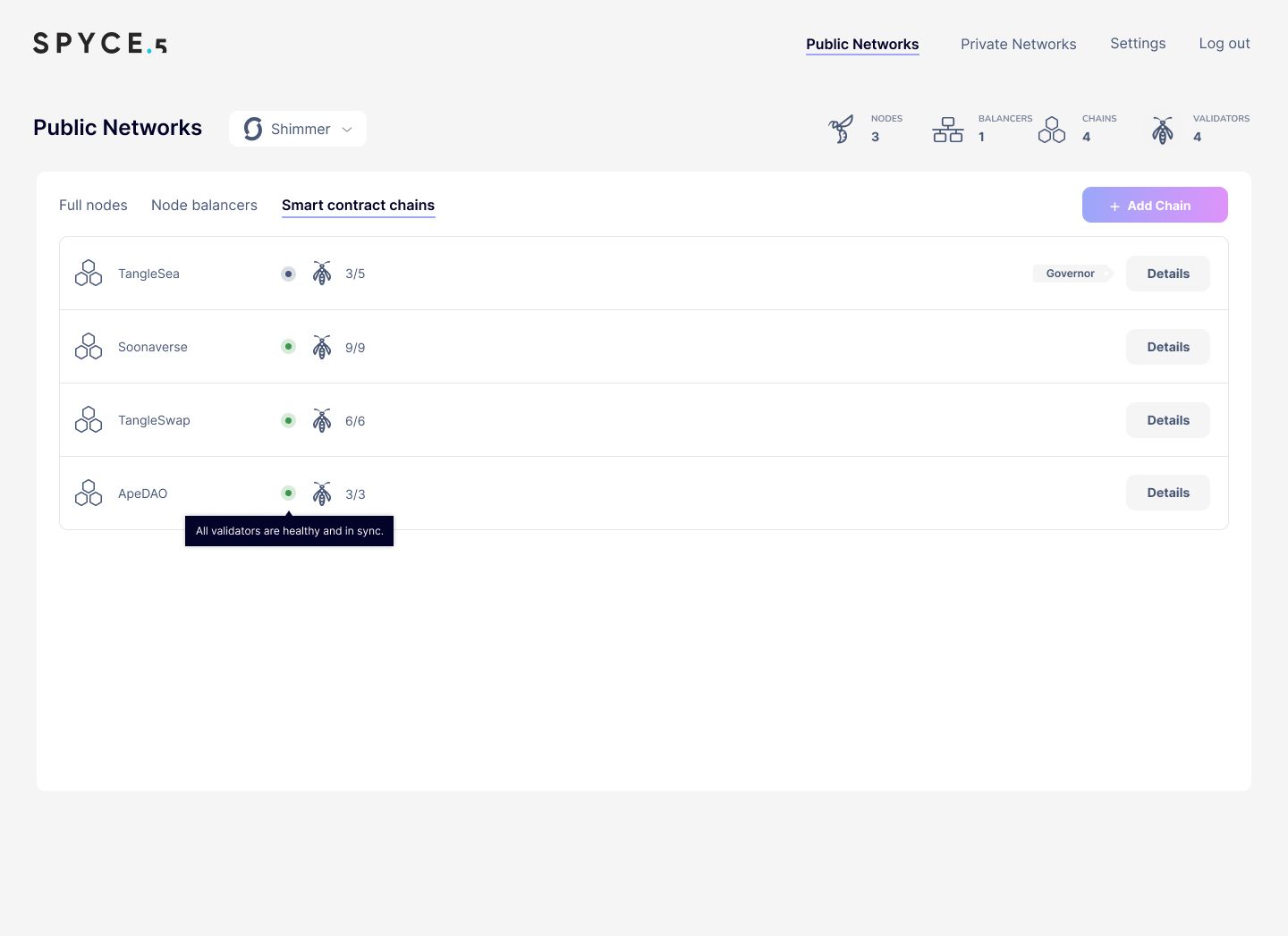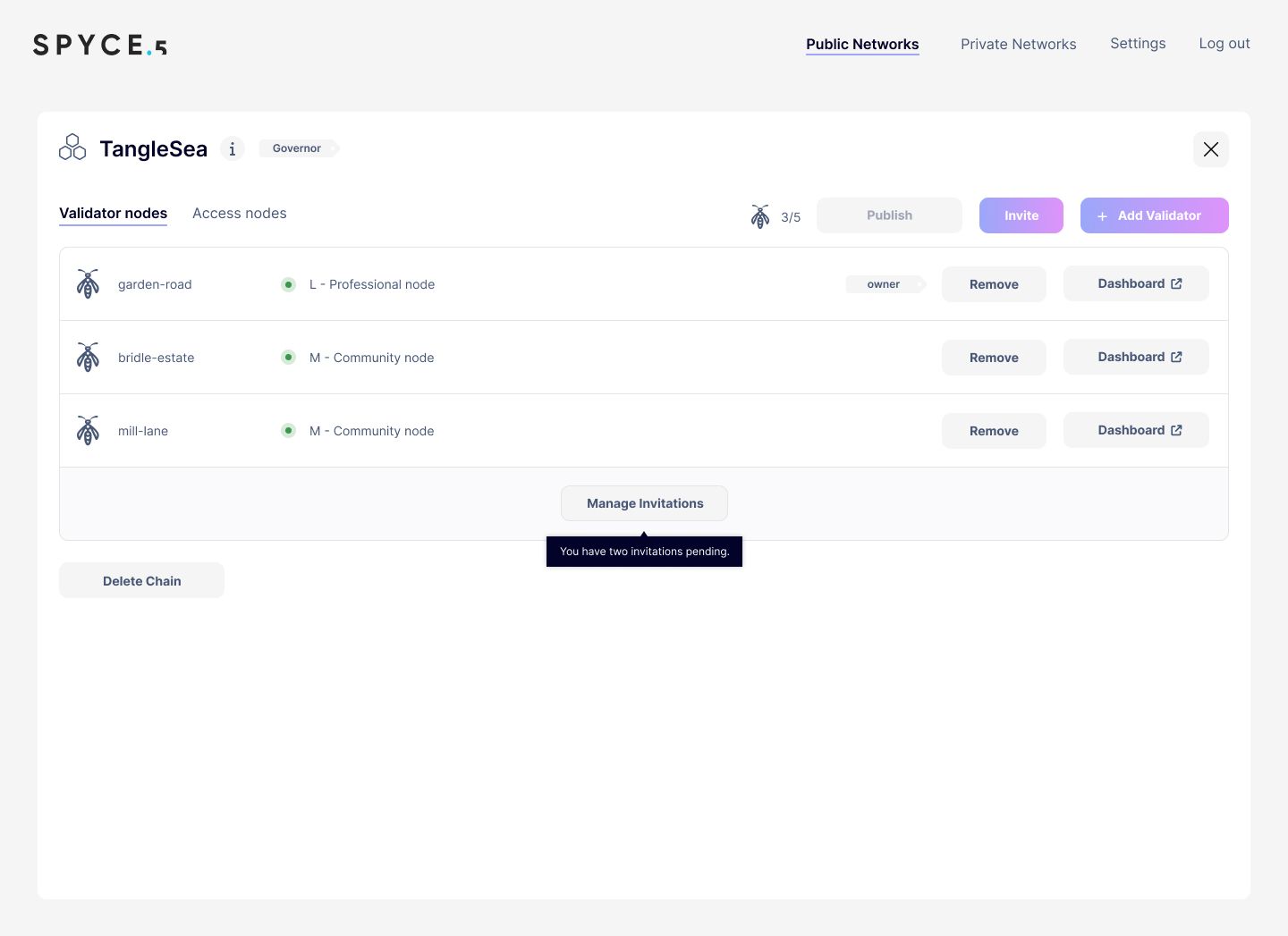 Anticipating the rising popularity of the Shimmer ecosystem, the team recently launched tanglechains.org, a hub for information on smart contract chains, offering details on their RPC endpoints, one-click wallet connect and other key information.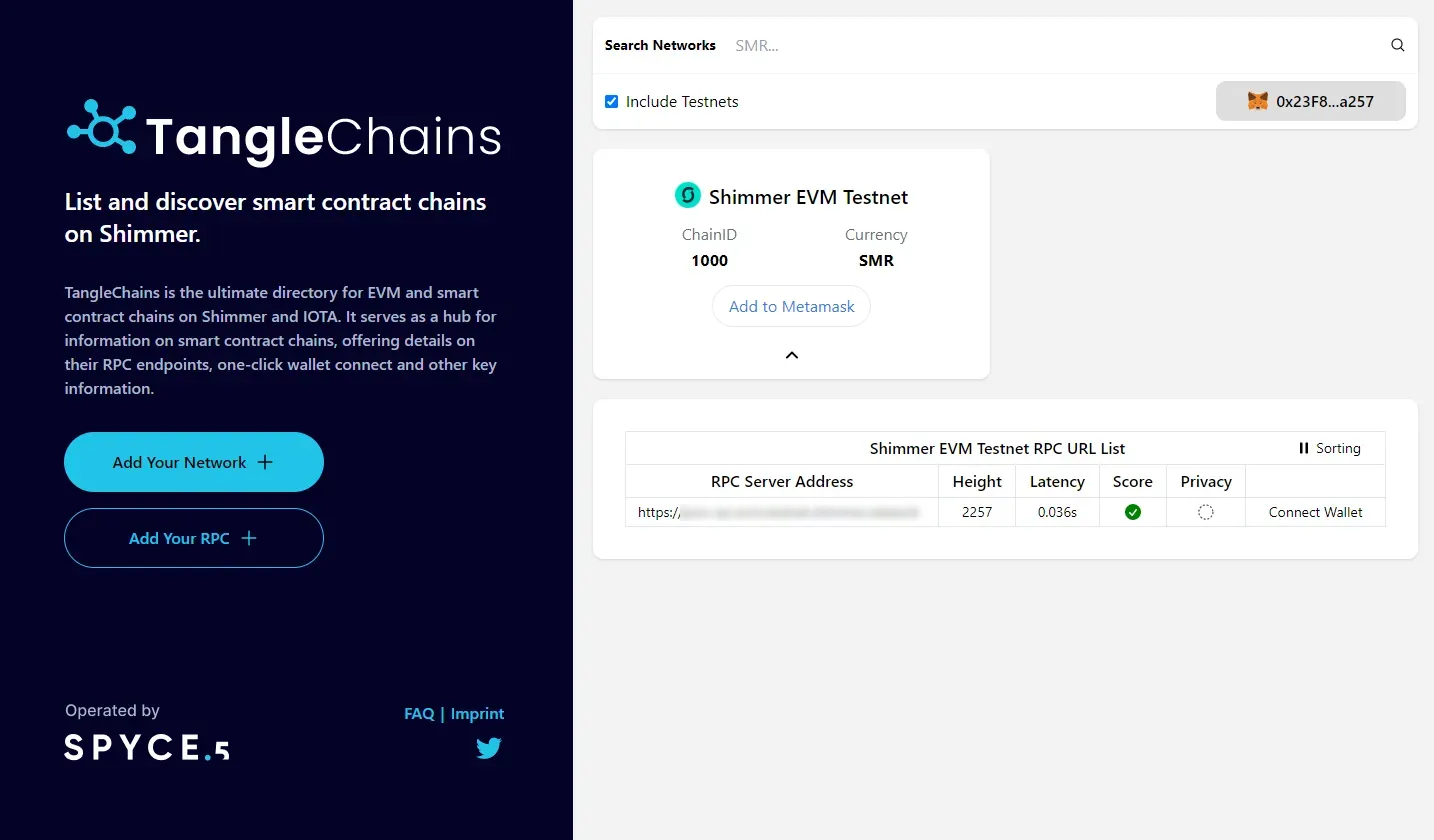 2. Enterprises and corporate developers: Organizations that want to tap into Web3 but lack the expertise to bring their products to market quickly and safely will benefit from using SPYCE.5's platform. Many public blockchains do not offer enterprise-related utility out of the box, creating unnecessary complexity and cost for businesses that want to utilize the technology.
SPYCE.5 aims to reduce the time and cost of implementation. Its services include everything for builders, creators, and developers, but are available in private networks. They also offer enterprises additional services like secure data spaces (protected by digital identities to exchange trusted data globally and in real-time for advanced automation) and seamlessly integrated and interconnected blockchain utility for consortiums to work together (token minting, utility NFTs, marketplaces, digital asset management). Finally, they enable direct payments in EUR, decreasing the risk for organizations to manage and handle crypto payments directly.
Kimmo Nurmisto, Co-Founder of SPYCE.5, said: "With our extensive experience in corporate innovation and deep knowledge of distributed ledger technology, we can help companies build solutions that improve operational efficiency, enhance data security, and lower infrastructure costs."
Highly experienced team and skilled advisors
SPYCE.5 is founded by two former IOTA Foundation directors, an active member of the IOTA community, and the IOTA Foundation as a strategic partner. Together the co-founders bring extensive experience in building and scaling companies as well as expertise in blockchain, managed services, product design, and growth and marketing.
The senior co-founder team consists of Holger Köther, Regine Haschka-Helmer, and Kimmo Nurmisto. Holger is the IOTA Foundation's former Executive Director of Market Adoption, and Regine is the Foundation's former Executive Director of Market Strategy. Holger and Regine will continue their involvement in the IOTA Foundation as advisory board members. Kimmo is an active IOTA community member, entrepreneur, and founder of the former IOTA Touchpoint project Hiveroad.
Regine Haschka-Helmer, Co-Founder of SPYCE.5 (and Former Executive Director, Market Strategy at IOTA Foundation), commented: "We believe in the positive impact of decentralized, sustainable technologies on our economy and society. With our easy-to-use platform, we are closing the gap between educated developers and companies entering the space as well as shortening the time to utilize blockchain in existing products and services."
The team has also attracted highly skilled advisors from global companies such as Software AG, Cisco, and the IOTA Foundation. Christoph F. Strnadl, Deputy CTO Software AG and Advisor to SPYCE.5, said: "It's amazing what SPYCE.5 has developed so far. This is exactly what we need for enterprise adoption: easy-to-use data, identity, and other utility APIs, which can be integrated into the existing enterprise IT."
Building the foundation for success
SPYCE.5 has already gathered market validation, having been shortlisted in the Corporate Innovation category at the INATBA Awards. The International Association for Trusted Blockchain Applications (INATBA) is one of the largest global blockchain organizations and its awards recognize the most exciting projects for 2023.
As the IOTA Foundation continues to grow as a Research and Development organization to better enable builders and its wider community, SPYCE.5 will continue to build on the business relationships and initiatives to accelerate adoption. SPYCE.5 will support the ecosystem's growth by providing a platform for innovation and building a bridge for developers and enterprises to enter Web3.
We are excited to work together to build a thriving and innovative ecosystem and bring more developers, companies, and investments into the IOTA ecosystem.
SPYCE.5 is gradually opening up its service for beta testing. You can sign up for the early access list at SPYCE5.com.You can also follow news and announcements on its Twitter and Medium.
---
Links in this article

Follow us on our official channels for the latest updates:
Discord | Twitter | LinkedIn | Instagram | YouTube