IOTA Experience Team - The First-Year recap
Celebrate One Year of IOTA X-Teams With Us!
We launched the IOTA Experience Team initiative one year ago. After one year of extraordinary contributions, it is the right time to celebrate their achievements with the IOTA community!
What happened during this year?
Together with IOTA community members, we kicked off ten X-Team initiatives that span from IOTA building blocks like IOTA Streams or Stronghold to 100% community-driven initiatives like IOTA Identity or Simplify IOTA.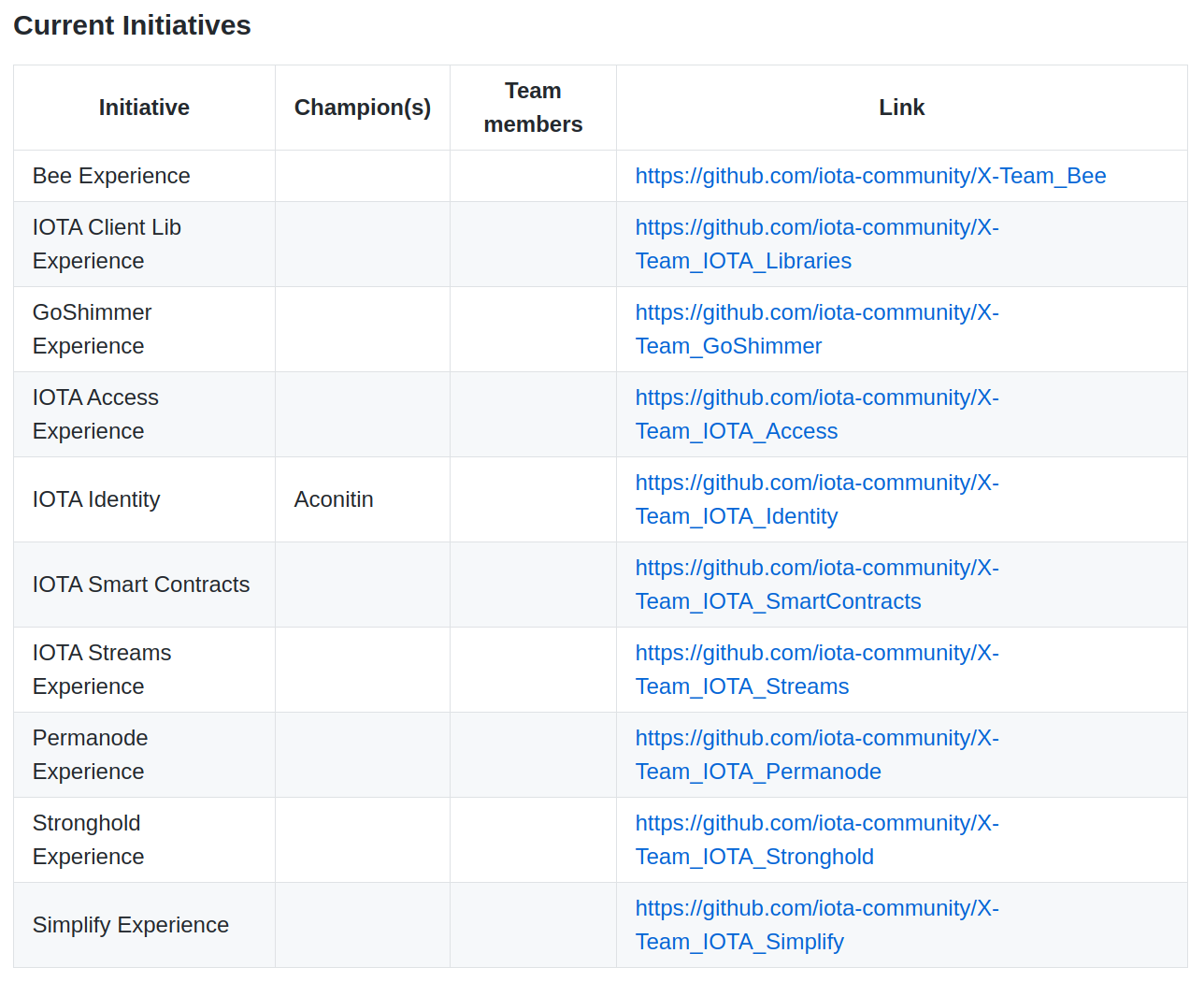 The framework around the X-Teams enables community members to get together and participate closer with IOTA Foundation members on different projects and topics to share their experience regarding IOTA's vision. They contribute to the development, adoption, and outreach of individual IOTA projects. Defining goals and contributing to them at their own pace, meet people with similar interests that aim to solve related problems, team building, and being an active part of IOTA's future.
There are 47 goals distributed over ten X-Team initiatives to contribute to. Some are highly technical, while others are achievable by non-technical community members.
In this post we are going to highlight achievements by a selection of IOTA Experience teams that demonstrate how community members can make the difference to the IOTA vision.
Highlight: GoShimmer X-Team
The GoShimmer node software is where the IOTA Foundation's Research Department tests the Coordicide modules to study and evaluate their performance.
The aim of this open repository is to give the community the opportunity to follow developments, take part in testing, and learn more about Coordicide.
The GoShimmer X-Team members are supporting IOTA Foundation's Researchers by setting up GoShimmer nodes in different parts of the world. This enables the Researchers with real-world infrastructure and network topology to gather fundamental information for the research of the coordicide modules.
Thanks to all the GoShimmer X-Team! A special mention goes to Dave [EF] and Dr.Electron who took ownership to arrange all that is necessary to set up a dRNG committee and mentored other community members in the process.
Highlight: Identity X-Team
The IOTA Identity Experience Team is a collaborative effort to provide help, guidance and spotlight to the IOTA Identity Community by offering feedback and introducing consistent workflows around IOTA Identity. Enthusiasts and entrepreneurs gather to ask questions and help each other find success while utilizing IOTA Identity.
IOTA Identity is an implementation of decentralized digital identity, also known as Self-Sovereign Identity (SSI), by the IOTA Foundation. It implements standards such as Decentralized Identifiers (DID) and Verifiable Credentials (VC) from W3C as well as other related (proposed) standards.
Sebastian a.k.a. Huhn, a very prolific community member, team member of einfachIOTA launched the Identity X-Team as 100% community initiative before becoming an IOTA Foundation member.
This team is now championed by Aconitin, Managing Director at Filancore, actively developing identity solutions and hosting the regular X-Team meetings on Monday at 20:00 PM CEST. During these meetings, different aspects of the IOTA Identity implementation are discussed and the members share and compare approaches and solutions.
You can re-watch the Identity X-Team video days meetings on YouTube.
Thanks to all Identity X-Team members!
Highlight: Bee Team
Bee is a project within the IOTA Foundation development teams with a transparent development approach. Their communications channels are on the IOTA Discord where everyone can see what is going on and contribute or participate in the discussions and development. In addition the Bee team holds Rust live coding sessions on IOTA Foundation's YouTube channel.
The Bee X-Team members strongly supported IOTA Foundation's Bee team at a very early stage of the project by setting up nodes, debugging, sharing their findings and heavily contributing to finding and solving issues or defining parts of the project through their experience.
With Chrysalis, Bee has reached version 0.1.0 and can be used as an alternative to the community-developed HORNET node.
Highlight: Simplify X-Team
The idea behind the Simplify X-Team is straightforward: Make IOTA easier to approach from all angles. To do that, non-developer community members launched this Experience Team as a way to focus their time and energy on contributing to various aspects of IOTA.
Very tangible contributions were the IOTA Discord channel reorganization: here the channels were reorganized in a different and more approachable structure; or the Reddit All-in-one thread: through this goal the content of the thread on Reddit that collects the most important information for newcomers can be updated and managed quickly and almost automatically.
This is the most approachable X-Team initiative for everyone as it does not require deep technical skills and where also newcomers can share their experience of what works and what does not as they approach the IOTA technology and ecosystem.
Thanks to the Simplify X-Team members that take their time to contribute to a simpler IOTA. Here the special mentions go to Phylo, Linus (who also became a Reddit Moderator), Myhrmans and Roy C for their availability and the indeed very valuable sparring discussions all around simplifying IOTA.
Highlight: Cross-initiatives and Firefly
The latest and most important cross-initiative was the closed testing phase of Firefly - The Secure Entrypoint to the IOTA Ecosystem. X-Team members from all initiatives were invited to test the alpha version of Firefly and gave feedback from user experience to technical issues, graphical bugs and new feature requests. Following the initial testing period, other community members joined the Firefly closed testing group to look at the project with fresh eyes and gave additional feedback.

In the time period of 46 days, the X-Team members together with other testers from the community helped capture and solve over 287 issues which made it possible to share the beta version with the whole IOTA Ecosystem
The contributions to Firefly are ongoing, by supporting the community in the #help channel on the IOTA Discord suggesting new features, translations and other tips to make the user experience frictionless.
---
The final acknowledgment goes to all X-Team members for contributing their skills, time and experience to IOTA. Lest we forget how every X-Team member is contributing in their spare time, according to their availability and using their skills to support the IOTA community and the IOTA vision.
Everyone is invited to the IOTA Experience Teams to pave the road for IOTA to have the best experience in the DLT and IoT space.

To introduce which initiatives were launched and what was recorded so far, watch the previous X-Team meetings here on the IOTA Foundation YouTube channel.
Read more about the IOTA Experience team in this blog post, discover the IOTA Experience Team on GitHub, explore the IOTA Experience Initiatives and then apply through this form.
---
Follow us on our official channels for the latest updates:
Discord | Twitter | LinkedIn | Instagram | YouTube