IOTA Native Digital Assets - DevNet Version
TL;DR:
With today's launch of the IOTA 2.0 DevNet we have officially also released our Digital Assets framework on the DevNet. It's time to tokenize, to NFT, and to have fun sending around magical decentralized internet tokens. We built a new wallet for the IOTA 2.0 DevNet to empower our community to start experimenting with digital assets. For developers, you can find the documentation here.
As previously announced, we have prepared an early wallet for testing and participating in the IOTA 2.0 DevNet. It is based on a wallet that our research department and ecosystem developers have been using to test IOTA 2.0. Its purpose is to offer a first glimpse into how easy it is to mint token types and create different flavors of digital assets on the IOTA 2.0 DevNet. Keep in mind that this release is for testing and development purposes only and is designed to work exclusively on the IOTA 2.0 DevNet.
Why are we so excited about Digital Assets on IOTA? Are existing DLT solutions not good enough? No, they aren't! They have fees and waste electricity, are typically not scalable and are often less secure than native tokens. We have been rethinking digital assets with the requirements of our ecosystem and industry partners in mind. IOTA will provide the first DLT infrastructure for the creation of digital assets that are natively secured (i.e. as secure and scalable as the native IOTA token) without incurring any fees or wasting electricity.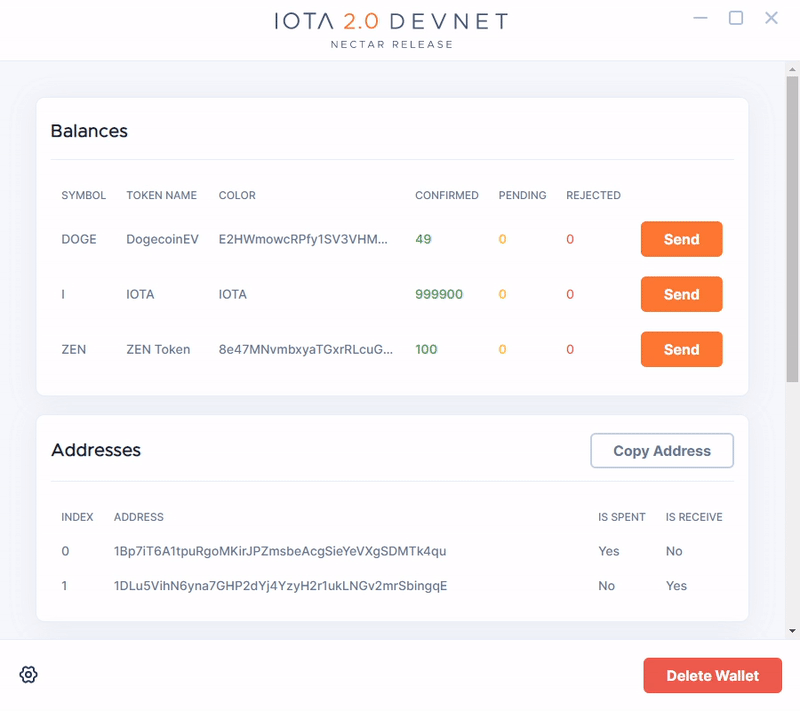 Sounds good? Let's tokenize!
Unlike other DLT networks, the creation of digital assets on the IOTA network will always be feeless. For 1 MIOTA, users will get 1,000,000 tokens for the digital asset they want to create. With our test wallet for the IOTA 2.0 DevNet, anyone can try out how easy it will be to create digital assets on IOTA 2.0. We have included a registry, listing all digital assets created on the DevNet on: https://v2.iota.org/coin-registry
7 steps to creating a Native Digital Asset on the IOTA 2.0 DevNet
Download the wallet from the IOTA 2.0 DevNet website: https://v2.iota.org.
Open the app, click on the "New Wallet" button and create your own test wallet (Depending on your security settings, you might have to allow the app to run).
Copy your seed and store it safely. Click the "OK" button.
Request funds from the faucet by clicking on the "Request funds" button (this can take anything from a few seconds to several minutes, depending on the network load).
Create your own, native digital asset by "tagging" testnet tokens: enter your own asset name and symbol and click on the "OK" button.
Airdrop time! Send your newly created tokens to anyone you like.
Additionally: Send your address to others and receive their digital assets.
We are excited to see how many creative digital assets will emerge on the IOTA 2.0 DevNet registry.
The wallet is only a simple graphical user interface that our researchers and ecosystem developers use to test the IOTA 2.0 architecture on the DevNet. Furthermore, the IOTA 2.0 DevNet registry, in which the names of digital assets are being stored, is currently a test implementation of what is to be a token foundry. Angelo Capossele set it up for the community to create digital assets using human-readable names instead of hexadecimal IDs. The fully decentralized IOTA 2.0 ledger already maintains the digital assets themselves. For the time being, their names are stored in a centralized registry. We encourage the community to develop further improvements to the wallet and work on new innovations with our digital assets framework. You can find all the documentation and open-source projects here.
In the future, the Firefly wallet will support the IOTA 2.0 protocol and the digital asset registry. Maintaining asset names will be fully decentralized. You can already see some humorous digital assets created by members of the IOTA Foundation and community members that immediately saw the updates to our Github repos - everyone seems to want to own a coin nowadays. Luckily their creation doesn't cost anything using IOTA.
Digital assets: what they are and why they are exciting
By digitizing digital or physical assets such as precious metals, real estate, securities, or artworks, assets can be stored (tokenized) as digital tokens. The tokenized assets can then be traded - with the token functioning as a digital, transferable representation of that asset. Tokenized assets are usually kept and transferred on a DLT because they offer a level of security no other architecture does.
The IOTA protocol is the digital infrastructure layer for our physical world, empowering people and machines with a "trust" protocol - immutable and verifiable data, feeless value transfers, and the creation of digital assets. These properties combined enable digital twins that are linked to physical assets, with all data and value flows within these systems mapped digitally and running fully autonomously. This is what will ultimately lead to the creation of the Machine Economy.
The IOTA protocol and our digital assets framework is not only useful for physical assets, but also for any kind of tokenization, including other cryptocurrencies, community tokens, digital rights, licenses, and artworks.
Artworks, in particular, have been in the news lately. Art can be digitized via non-fungible tokens (NFTs): a painting remains on the wall in physical form and can be admired by viewers, but a tokenized, digital artwork or representation of a physical artwork can be traded either in parts or as a whole. Without having to take the painting off the wall or signing over ownership in the form of a paper-based contract, the asset can be transferred or even have split ownership.
A significant advantage of tokenization is that individual assets, such as real estate, can be traded on a fractional basis. It is, therefore, possible for investors to acquire shares of these assets in smaller amounts, thus making whole asset classes more accessible to investors. This is made possible thanks to DLT, which removes the middlemen, thus lowering costs and further democratizing participation in economies.
---
Try the new wallet and check out the documentation here. To join the discussion about Digital Assets on IOTA join the #digital-assets-nft-discussions channel on our Discord!