IOTA's Community of Practice — X-Teams and Tangle EE Eclipse Working Group
The IOTA Foundation is an open-source foundation that is developing a range of products, including the IOTA distributed ledger, Streams, Access, and Digital Identity. IOTA Foundation's products are open source projects that are built by the IOTA Foundation and a tangibly engaged community of practice.
Communities of practice have been around for decades and have helped countless organizations to solve problems and develop new ideas by peers who share a common passion. Social media has provided the tools and means for the community of practice members to connect with each other as never before which further accelerated the value communities of practice bring to its members and those organizations who embrace the knowledge and performance-enhancing activities conducted by these communities.
The IOTA community currently counts with more than 300.000 active members, many of whom voluntarily spend time helping others and building tools. The collaborative work is bringing our vision of connecting billions of humans and devices into reality.
To enhance our collaborative activities and jointly work towards the true Machine Economy, the IOTA Foundation, together with the community, launched the IOTA Experience Teams.  
The IOTA Experience Teams — the X-Teams — are groups of dedicated community members that work together with the IOTA Foundation employees throughout different stages of development. The X-Teams strengthen the collaboration with our passionate community, act as a global source of high-quality information, and help pave the road forIOTA to have the best developer experience in the DLT and IoT space.
The X-Teams take part in various initiatives proposed by the IOTA Foundation. The members are invited to propose their own initiatives to enhance the IOTA Experience. Current initiatives, such as IOTA Streams, GoShimmer, Bee, Hornet, Chronicle, and Access, are well underway and have already seen substantial and valuable contributions from the first 25+ community developers who made the transition from community member into X-Team member.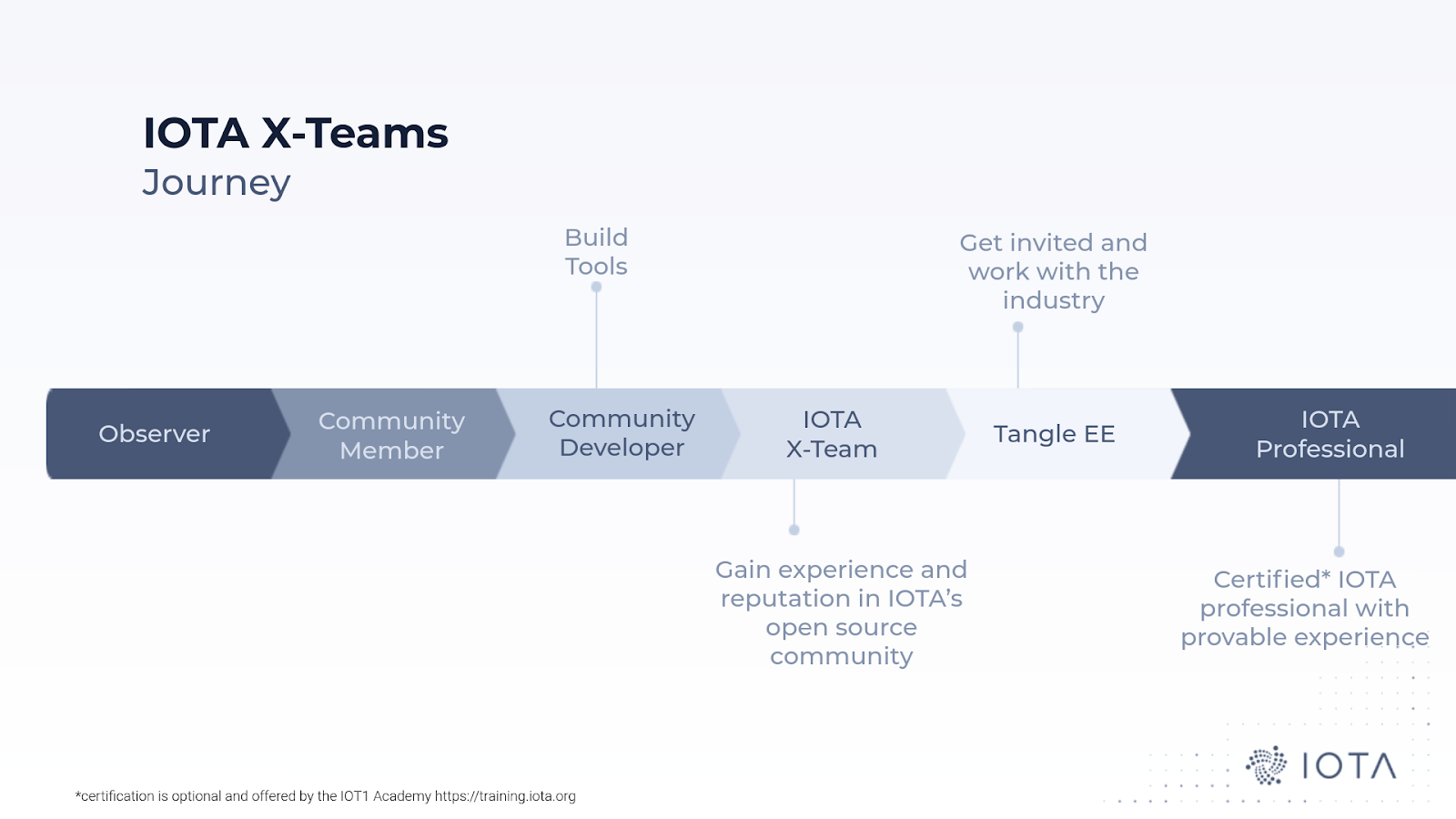 One great challenge in open source is to understand the value of a contribution. How is it possible to distinguish the difference among a discussion on a forum, a chat on Discord, and a pull request or issue on GitHub?
SourceCred, used by the IOTA Foundation to organize all contributions received, is a tool that assigns weights to contributions. This tool has been helping the broader IOTA community and ecosystem to understand the context of proposals and initiatives.
X-Team members will have public hard data at their disposal to show the importance of their contribution. Their work, based on their contributions within the X-Team initiatives, will grow their reputation and contribution value in the long term.
New members of the community will also have the possibility to become an important part of the IOTA ecosystem through their contributions in order to gain trust, support and build their reputation.
Read about and comment on the SourceCred proposal here on GitHub!  
The Tangle EE Eclipse Working Group exists to drive open source collaboration and commercial adoption in major IOTA use case areas. Business and academia come together to provide thought-leadership and develop tooling, applications and documentation. Stakeholders learn from and share insights with each other, discuss real-life use cases, help steer the direction of IOTA development, collaborate and build on IOTA together in a vendor-neutral, open framework under the Eclipse Foundation.  
The Eclipse Project lead, Eclipse Project Committers and Member Sponsors work together in Project teams where Project discussions and development activities take place.
Once an X-Team member reaches a Cred rank threshold defined by the X-Team participants themselves, the X-team member will receive an open invitation to become an official Tangle EE Project committer.  
Participation in this capacity grants access to collaborate directly with leading organizations and its member stakeholders and represents an opportunity for X-team members to expand their professional network, learn, teach, build or even lead successful IOTA-enabled projects outcomes in a professional workgroup setting.
We invite everybody from the community to learn more and engage in our communities of practice — X-Teams and Tangle EE Eclipse Working Group.
To learn more about the IOTA Experience Teams Initiatives visit this repository on GitHub.  
To learn about Tangle EE, visit our website.  
As always, you can also get in touch with our team on our Discord server.