Incentivizing Energy Savings with EnergieKnip and IOTA
Using Data to Cut Energy Use and Boost Local Economies
TL;DR:
EnergieKnip has proven that distributed ledger technology (DLT) can benefit entire communities on the path to greater sustainability - without compromising anyone's privacy. With subsidies distributed through a digital currency, EnergieKnip has incentivized citizens to anonymously share their energy consumption data with local authorities. In this blog post, EnergieKnip project leader and co-founder of BlockchainLab Drenthe, Adri Wischmann, shares lessons learned from their project about using DLT in local government incentivization projects.
Anyone who isn't completely ignorant of current global events will recognize that we urgently need to save energy and live more sustainably. However, for our energy consumption to be reduced, it first has to be documented with accurate data. After all, "what gets measured gets managed".
Local governments have a responsibility to collect data on local energy use while complying with strict data processing and security rules. Once data collection is complete and the level of energy consumption is documented, the authorities can present incentives and solutions for residents to optimize their energy consumption.
At BlockchainLab Drenthe, we saw this responsibility as an opportunity and launched EnergieKnip ("energy wallet"), an IOTA-powered cryptocurrency wallet (read the IOTA Foundation's first blog post about us here for an introduction). The wallet received reward tokens for providing data about energy-saving measures in local homes. In this blog post, I want to share our experiences working on EnergieKnip in the Dutch municipality of Emmen.
Earning people's trust to share their data
Although EnergieKnip needed data on people's energy consumption patterns and home energy set-up, we had to comply with data privacy requirements if we didn't want people to reject the program based on privacy concerns. We defined the following best practices for the EnergieKnip project:
The data collection had to be anonymous: at no point should it be possible for local authorities to attribute the data they obtain to a specific household.
Participants had to understand all steps of the set-up and that no data about their identity would be obtained at any stage of the set-up. For example, the EnergieKnip app never asked for an email address, name, home address, or phone number.
The obtained data had to lead to a direct benefit for energy consumers and the municipality.
Because not everyone is intrinsically motivated to save the planet, there had to be an incentive for consumers to change their behavior, be it a reward system or any other form of incentivization.
Any exchange of data and rewards had to occur via an easy-to-use platform. Energy consumers should not be confronted with obscure technical terms, cumbersome user interfaces, and lengthy text, but rather be told in an easy-to-understand way what the project is about and how they will benefit from it.
With these requirements in mind, we started our journey to find a suitable technology for our project.
💡
About EnergieKnip

The dutch word "knip" describes an old-school money purse (with two metal buttons that make that distinct knip sound when you open it). We wanted people to understand the essential aspect of our project just by reading the name: "EnergieKnip", or "energy wallet". The app stores data and reward points, and both have value you would usually store in a traditional wallet. One of our next projects is inspired by the purse my grandmother used to have, with its separate compartments for grocery money, clothing money, etc. It will be the basis of a system where one can have multiple purpose-bound tokens in their wallet (current working title: "MultiKnip"). It will enable governmental bodies like municipalities to provide even better help for citizens who are in need or would like to be rewarded for doing good.
Finding the right technology
It was clear that our project would work best using a distributed ledger technology (DLT) network with its own native cryptocurrency. However, we also realized that the energy consumption of most cryptocurrencies stands in stark contrast to the spirit of our project. It would be hypocritical if we tried to improve the energy consumption of private households with an energy-draining DLT such as Bitcoin. Fortunately, we found a more ecological alternative with the IOTA Foundation and its DLT network. It was a perfect fit for our project.
It would be hypocritical if we tried to improve the energy consumption of private households with an energy-draining DLT.
But why did we need a distributed ledger in the first place? Because we wanted to create a local reward token in order to incentivize energy consumers to share their data with us and provide information about their home energy infrastructure. The IOTA Foundation provided a handful of USPs that convinced us to use their network and token:
The ability to store the collected data in a decentralized way on the IOTA network, ensuring its security.
Feeless transfer of our reward token from the municipality to households, making the project economically feasible.
Instant transactions (under two seconds), meaning no delays in collecting the data and or sharing the rewards.
Households get their own dedicated wallet for the reward tokens, maintaining privacy while also identifying that the data comes from one household.
The architecture of IOTA makes fraud impossible, meaning we could trust the accuracy of the energy data.
However, the main reason for our choice was that the IOTA network does not require so-called "miners". In other DLTs, such as Bitcoin, these miners lead to high power consumption and transaction fees, which would undermine our goals.
Save energy, get a reward – all in one app
Project goal: check! Novel open-source technology: check! What was missing was the realization of our idea. To ensure 100% anonymity of the participating households, we randomly distributed QR codes within Emmen, the municipality selected for the project. The QR code made it possible for households to participate but made it impossible for the authorities to identify the individuals behind these households. Using the QR code, homeowners could connect their app to EnergieKnip. Activating the app automatically created a wallet for the reward token, allowing rewards to be transferred from the community's wallet to the homeowner's wallet.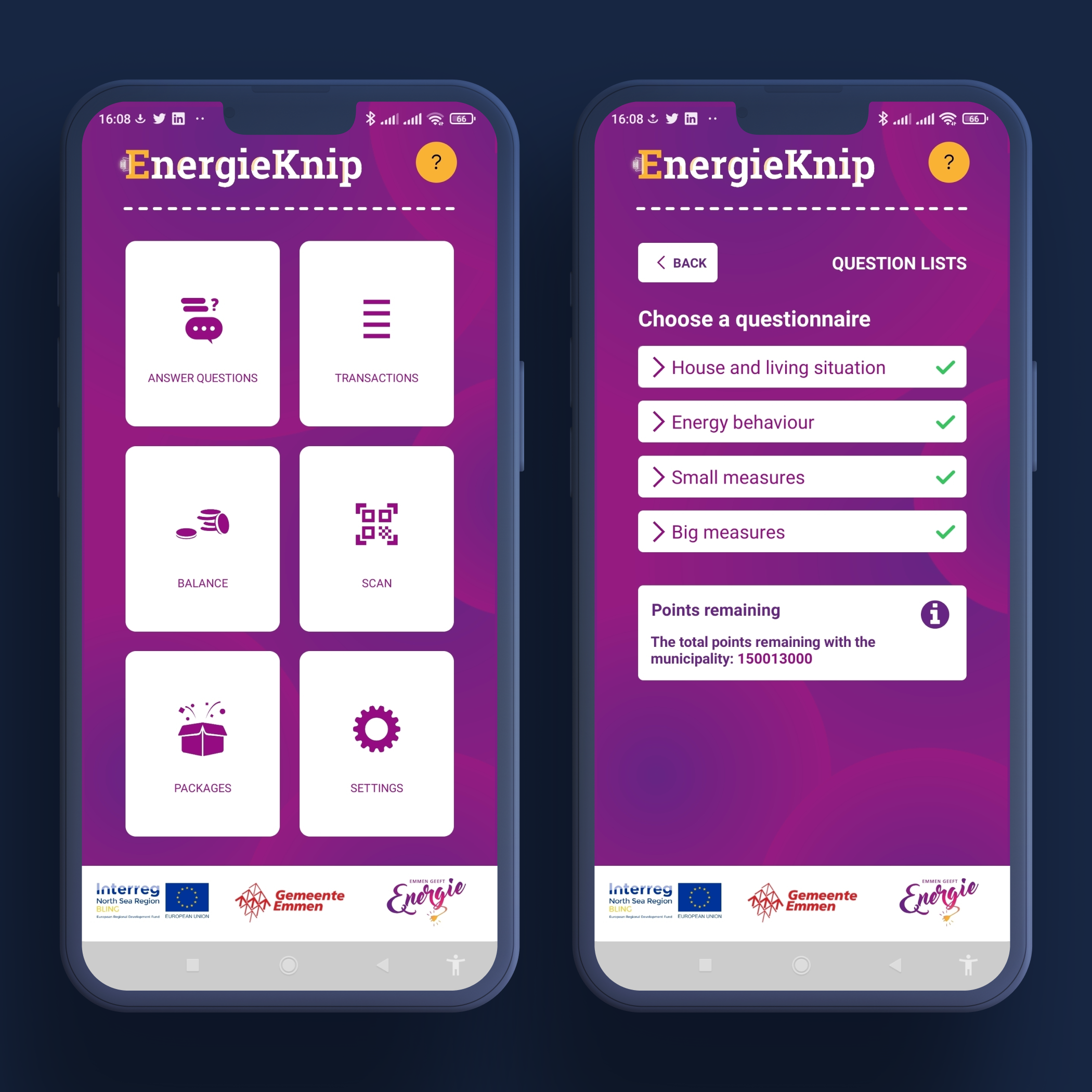 The app had a simple user interface (our user base targeted people from 18 to 88 years old, so we wanted to make sure everyone could work with it). The app asked households about their energy use: "Do you have solar panels?"; "Are electronic devices in power-saving mode overnight?"; "What kind of windows do you have?" Once a question was answered, households received reward tokens within seconds, all realized by an automatic process on an IOTA node.
The answers were stored decentrally on the network, making it possible to use a different phone and have your credits and answers instantly restored by rescanning the QR code, so participants didn't lose access to their rewards if, for example, they bought a new smartphone.
Once a question was answered, households received reward tokens within seconds, all realized by an automatic process on an IOTA node.
Later, residents could spend their reward tokens at local retailers to acquire new energy-saving devices, like LED lighting, radiator foil, or thermostats. This transaction was also done with the reward token wallet in one easy step by scanning a QR code at the store. Once the retailer got the token, they could exchange it for euros.
How successful was the project? A few key results
In the first EnergieKnip project, 50,000 wallets were created for as many households (a total of about 106,000 citizens). This ultimately resulted in 300,000 euros distributed to 9,000 active wallets – and all this in a decentralized and anonymous way.
Media coverage ranged from finance investment blogs like this (in English) and this (in German) to North Macedonian online news and Dutch national business radio program.
Two more projects followed, one of them helping low-income families to reduce their energy costs. Twenty thousand families received a QR code for a wallet, this time not to obtain data but to provide targeted financial support with a total sum of 5,000,000 euros. Just three minutes after registering, families could use the tokens that they received in the wallet to go to a hardware store, use them for energy-saving measures and start cutting down on their energy bills. Although the project is ongoing, it's already been a success: A Dutch housing association has agreed to participate in the project and make additional funds available for people living in accommodations provided by the association. This marks the first time that a corporation has participated in one of our projects and provided extra funding for citizens.
EnergieKnip currently has around 30,000 active wallets and is the biggest public government blockchain project in the Netherlands. Since 2021, over 300,000 euros have been distributed within the project and generated over 50,000 transactions on the IOTA network. The municipality of Emmen plans to build on EnergieKnip and has funded research to develop other coins to be used in the town. Furthermore, EnergieKnip is in close contact with the Dutch National Bank to ensure that the project operates within the rules and regulations.
EnergieKnip currently has around 30,000 active wallets and is the biggest public government blockchain projects in the Netherlands.
However, even more important are the benefits created for all parties. Tying money to a specific purpose can strongly promote consumer behavior. In terms of the participants in the EnergieKnip project, this means:
Participants receive money to reduce their energy bill and get information through the app on how to improve their energy consumption (i.e., "closing your curtains will save up to 4% of your annual heating bill")
The municipality receives data to improve future policies, can improve and plan future campaigns, and learns how to distribute subsidies quickly, efficiently, and at a low cost.
Local retailers benefit from the extra revenue and new customers while ensuring that the rewards are reinjected into the local economy.
The environment benefits from the saved energy, including a reduction in CO2 levels because people spend their rewards locally, limiting transport costs.
The IOTA ecosystem benefits because the technology is battle-tested by thousands of non-crypto users in a state environment.
Just the beginning: Potential use cases
Where is the journey heading? We'd like to see our project expanded by other communities. With new technology like IOTA's tokenization framework, first introduced on the Shimmer network and then ported to the IOTA mainnet, a variety of ideas for more sustainable energy consumption can be implemented as well as similar solutions for different fields. For example:
Stimulating tourism by putting a QR code in every hotel room and asking questions like "how long are you planning to stay?" or "Where are you from?" and providing them with earmarked money which can only be spent locally in a museum or in a restaurant.
Increasing health by distributing QR codes in low-income city neighborhoods where fast food joints can be found on every street corner. On activation, a few questions like "What is your age?" or "How much do you weigh?" can be asked and money provided to be spent at local fitness clubs or health food stores.
Fighting heat stress in a city by distributing QR codes to homeowners who live in the city center and asking them questions like "How large is your front garden?" or "Do you have trees in your street?", then providing them with money that can only be spent at a garden center for buying plants and trees that provide shade to the city.  
Our experience with Emmen shows just what an important role local government can play in generating creative incentivization for local people, as long as it complies with privacy rules. EnergieKnip has proven that the willingness of local communities exists. Now it is time to build on this, develop other use cases, and act together in the interest of a more sustainable society.
Of course, we're always open to suggestions and help to implement projects for municipalities while the IOTA Foundation is also interested in expanding local token-based initiatives. If you work for a municipality, or are in close contact and are interested, get in touch with BlockchaiLab Drenthe or the IOTA Foundation.
---
Follow us on our official channels for the latest updates:
IOTA: Discord | Twitter | LinkedIn | Instagram | YouTube